Manufacturing

Marketing Partner
---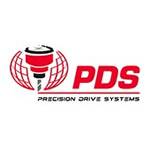 PDS / Precision Drive Systems
Over 40,000 Spindles Repaired or Rebuilt Since 1996. PDS is a global leader in spindle repairs and retrofits for precision metal and robotics applications. With over 40,000 spindles repaired to better than-new-condition. PDS also offers new spindles, CNC accessories, and Industry 4.0 spindle monitoring. With offices in Bessemer City, NC (near Charlotte) and Herford, Germany PDS backs superb craftsmanship with a standard 12 month warranty on repaired spindles and an optional, industry-leading 24 month PrecisionCare warranty.
---
Mailing Address:
4367 Dallas Cherryville Highway
Bessemer City, NC 28016
United States of America
Tel: (704) 922-1206
Fax:
Email: spindles@pdsspindles.com
Website: http://www.spindlerepair.com
Company Category: Industrial Robotics
Geographic Region: USA - South East
Company Sector: Manufacturing
Keywords: spindle repair, spindle monitoring, robotic spindles
Partner Status: Marketing Partner
---
Products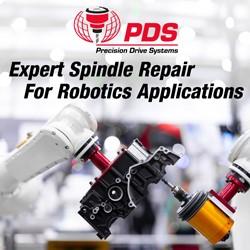 Precision components machined by CNC robot machining systems require compact, lightweight, and high-speed motorized spindles capable of delivering higher efficiency, performance, and reliability than those used in many other industries. That's why manufacturers of milling, cutting, trimming, grinding, polishing, and deburring trust Precision Drive Systems (PDS) to provide accurate and dependable spindle repair to perform to the most exacting standards.
---
Articles
Have you experienced a series of spindle failures, causing you to wonder why? Maybe you're a Quality Control engineer looking for reasons your cuts are going out of tolerance.
---
White Papers
This Company does not currently have any White Papers
---
Press Releases
Precision Drive Systems (PDS), a global solution provider of precision motor spindles, expert engineering and support, and repair services headquartered in Charlotte, NC, has announced today that Robert Turk has been promoted to the role of the company's President.
We now have the ability to sit in the production office or glance at our smartphones and see the health of some of the most important components running on any machine in the plant. This is where spindles come in. If it spins, holds a cutting tool, and "must" run perfectly balanced and true, it will most likely fall into the spindle category.
This optional program aims to support new and existing customers with a hassle-free, extra-measure of protection for their machine spindles.
---