Integrator

Marketing Partner
---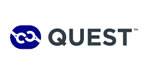 Quest Industrial LLC
We are an Authorized FANUC Robotic Integrator specializing in cutting edge technology. Quest can provide solutions that make sense for your company by helping achieve production goals affordably, increasing profits, saving floor space, and improving safety. Applications include: Various Food & Beverage Equipment Pick & Place Machine Load & Unload Palletizing & DePalletizing Box & Case Erecting / Sealing Ultrasonic Cutting Knife Packaging Equipment Water Jet Cutting Sorting Vision Inspection
---
Mailing Address:
1313 16th Street
Monroe, WI 53566
United States of America
Tel: (608) 325-5850
Email: sales@questindustrial.com
Website: http://www.questindustrial.com
Company Category: Industrial Robotics
Company Sector: Integrator
Keywords: Robotic, Packaging Machinery, Palletizing, Vision
Partner Status: Marketing Partner
---
Products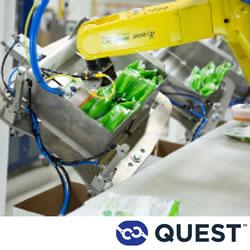 Quest is a leading manufacturer of industrial automation equipment focusing on robotics and vision-guidance. With expertise in the food, beverage, and dairy, Quest optimizes floor space for customers experiencing growing demand and helps improve their overall production line flexibility and efficiency. Quest offers application-specific software on their robotic products, including pick and place, case packing, and palletizing systems to simplify system setup and streamline configurability. Quest is a product brand of ProMach, a global leader in packaging line solutions.
---
Articles
From pick-and-pack to palletization, Master's Gallery Foods relies on flexible robotics systems from Quest Industrial to streamline end-of-line packaging throughput at its six Wisconsin cheese maturation facilities.
Heavy washdown and harsh chemical solutions used to clean robots in FDA and USDA sanitary environments for food processing can impact the robot finish, as well as leave condensation on robotic machinery that could potentially reach food products being handled.
The Boxed Bot is extremely flexible, allowing an operator to design and produce exact pallet patterns quickly and easily from bags to boxes and other product types, and does so with a small footprint starting at just 8'x10'.
---
White Papers
This Company does not currently have any White Papers
---
---