Manufacturing

Marketing Partner
---

ST Robotics
Manufacturer of low cost bench top robot arms with a unique approach to robotics. We have a range of robot arms for routine testing, manufacturing, sample handling, education and many others. Our robots are not only affordable but are incredibly easy to use - anyone can apply and program an ST robot regardless of experience or lack of it thanks to our acclaimed manuals and tutorials and unlimited free technical support.
---
Mailing Address:
103 Carnegie Center
Princeton, NJ 08540
United States of America
Tel: (609) 584-7522
Fax:
Email: sales1@strobotics.com
Website: http://www.strobotics.com
Company Category: Industrial Robotics
Geographic Region: USA - North East
Company Sector: Manufacturing
Keywords: Manufacturer of industrial robot arms
Partner Status: Marketing Partner
---
Products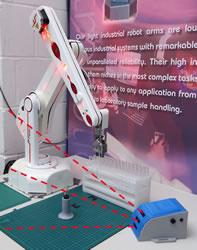 The 6-axis version of the R17HS high speed variant of the R17 robot is now available. As is our policy the 6th axis is an optional bolt-on module. At the same time we have made it even faster and new software eliminates shake and greatly improves repeatability as this video shows. Please see https://www.youtube.com/watch?v=3wG0MeiJ-yE. The video would seem to imply a repeatability of 0.01mm but we are sticking with 0.2mm in the spec. The motor specialist was able to tune the motors from the other side of the pond. My first reaction when we put power on and entered the first commands was to jump back in amazement (and maybe an expletive). Tip speed is now 3m/s; that's 3 times as fast as its nearest competitor yet costs half the price. I love it when a plan comes together.
---
Articles
Although the system was developed primarily for the inspection of orthopedic parts it can equally be used for the automated inspection of any critical parts, for example aeronautical.
The vision system sends coordinates to the robot so it can be gripped by the robot regardless of position.
We call our robots entry level for a very good reason. People can get started so easily with our robots. They are not the best robot arms on the planet but they are affordable and incredibly easy to use.
---
---