Software

Marketing Partner
---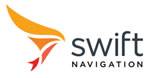 Swift Navigation
Swift's GNSS solutions deliver an order-of-magnitude higher precision at a fraction of the cost of traditional GPS solutions and are designed and assembled in California, USA. With customers around the world, Swift is already at work navigating an automated future in autonomous vehicles, UAV, robotics, survey, control, agriculture and other industries.
---
Mailing Address:
650 Townsend, Suite 410
San Francisco, CA 94103
United States of America
Tel:
Fax:
Email: press@swiftnav.com
Website: https://www.swiftnav.com/
Company Category: Unmanned & Other Topics
Geographic Region: USA - South West
Company Sector: Software
Keywords: GPS, Navigation, NRE, OEM software, sensors, autonomous, GNS
Partner Status: Marketing Partner
---
Products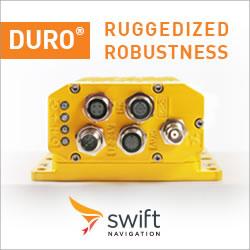 Duro® is a ruggedized version of Swift Navigation's Piksi® Multi RTK GNSS receiver. Built to be tough, Duro is designed for easy integration into existing equipment. This affordable, easy-to-deploy GNSS sensor delivers robust, centimeter-accurate positioning while protected against weather, moisture, vibration, dust, water immersion and the unexpected that can occur in outdoor long-term deployments.
---
Articles
Yeti has the goal to develop an autonomous snow clearing service for use on future airports. The product will be introduced in steps, in parallel with the development of technology for self-driving vehicles.
The Spraybot delivered inch-accurate positioning and instantaneous heading. Its autonomous navigation had built-in obstacle selection and avoidance. It was designed to both detect and identify plants and rows and deliver spot spraying.
By coupling its cloud and open autonomy platforms to disrupt agriculture, Northstar Robotics is on track to solve farm labor shortages and reduce farm input costs.
---
White Papers
VIBRATION TESTING ON PIKSI® MULTI AND DURO®
This white paper presents the results of vibration testing on Swift Navigation receivers and demonstrates their ability to withstand disruptions and deliver continued, accurate results under heavy vibration conditions.
---
---