https://www.swri.org/press-release/swri-establishes-collaborative-robotics-laboratory
SAN ANTONIO — August 14, 2018 — Southwest Research Institute has launched a Collaborative Robotics Laboratory to deliver advanced automation technology to the heavy industry and manufacturing sectors.

The facility features collaborative robots, or "cobots," in a flex-lab where engineers develop agile, mobile, automated capabilities. Lab facilities include meeting rooms for industry events and training.
"Cobots, when combined with adaptive perception-rich software, can perform complex tasks safely next to humans," said Paul Evans, director of SwRIs Manufacturing and Robotics Technologies Department. "Demand for SwRIs technical expertise in these areas inspired this capital investment in next-generation robotics."
While conventional industrial robots are typically walled off from humans for safety, cobots are different; they work alongside human operators performing manual tasks and heavy lifting. SwRI develops deep-learning algorithms, perception technologies and advanced path planning capabilities that enable cobots to collaborate with humans while performing multiple tasks.
"The labs goal is to demonstrate how robots and humans can interact in safe, mutually beneficial ways," Evans said. "Our projects often work across disciplines like biomechanical engineering, robotics and software development."
Engineers use the lab as a test bed for software development, working in close proximity to smaller cobots before porting advanced capabilities to larger industrial robots. The SwRI-managed ROS-Industrial Consortium also uses the lab for open-source Robot Operating System (ROS) projects, including a robotic arm that fuses markerless motion capture technology with machine learning to autonomously pick and place objects from human hands.
The Collaborative Robotics Laboratory will support client projects, internal research, industry workshops, software development, and manufacturing assistance with science and engineering solutions from SwRIs diverse technical disciplines, ranging from deep sea to deep space and everything in between.
The labs meeting space has already hosted workshops, code sprints and training. The SwRI-managed Texas Manufacturing Assistance Center (TMAC) South Central region is also developing courses to learn about integrating robotics into operations and supply chains.
"We want to introduce small- and medium-sized manufacturers to robots that will support the workforce while creating career opportunities for skilled human operators," Evans added.
To learn more about SwRIs robotics programs, visit https://www.swri.org/industries/industrial-robotics-automation. View a Collaborative Robotics Laboratory video here: https://youtu.be/r7zcLnmTjtQ.
------------------------------------------------
About SwRI:
SwRI is an independent, nonprofit, applied research and development organization based in San Antonio, Texas, with nearly 2,600 employees and an annual research volume of more than $528 million. Southwest Research Institute and SwRI are registered marks in the U.S. Patent and Trademark Office.
Featured Product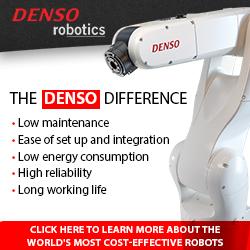 DENSO is the world's largest manufacturer - and user - of small assembly robots, employing over 17,000 of its robots in its own facilities. Over 77,000 additional DENSO robots are used by other companies worldwide. The compact, high-speed robots are used in traditional manufacturing sectors, as well as in advanced-technology applications in the medical, pharmaceutical and life sciences industries. Learn more about DENSO Robotics