Presentations on Artificial Intelligence, Wearable Devices, and Surgical Robotics to be Featured
Santa Monica, CA (September 19, 2018) - BIOMEDevice San Jose 2018, Silicon Valley's leading event for medtech professionals, today announced that it will feature over 20 hours of industry-specific educational content on emerging technologies in the realm of artificial intelligence (AI), surgical robotics, wearable devices, nano technology, and more. Returning for its eleventh year on December 5 - 6, 2018, BIOMEDevice San Jose will feature more than 250 leading organizations across medtech and more than 1,500 medical device industry professionals. To apply for a media pass to attend, please visit: sanjose.am.ubm.com/2018/registrations/Media

BIOMEDevice San Jose will host two dedicated areas on the show floor, Center Stage and Tech Theater, to provide attendees with the opportunity to learn about the latest technology in the industry from leading experts. Center Stage will host conference-level presentations on the most notable trends in the industry, while the Tech Theater provides a glimpse into the new technologies about to hit the market. Leading companies participating at both Center Stage and Tech Theater include Arterys, Alivecor, Galen Robotics, Intuitive Surgical, Kaiser Permanente, Medtronic, Proteus Digital Health, and the University of California San Francisco (UCSF), among others.
"We constantly strive to bring the latest developments in the industry directly to our attendees by hosting industry experts and offering a platform to highlight their groundbreaking work," said Amy Sklar, Group Senior Vice President, UBM. "Medtech is a rapidly evolving industry that we work endlessly to stay abreast of, and this year we are excited to host presentations that explore the challenges and developments that are impacting the day-to-day work of engineers and medical professionals alike, such as minimally invasive surgery and digital health."
Notable presentations at BIOMEDevice San Jose 2018 include:
• How Artificial Intelligence is Moving the Needle in Medtech - In recent years the development of AI has made a major impact across many different industries. In this panel, experts from Kaiser Permanente, Galen Robotics, and more will explore the potential of AI for medical devices, and discuss how medical companies can adapt to this growing technology.
• Robotic Surgery - Visions of the Future - Surgical Robotics are advancing rather quickly with more companies joining the marketplace each year. In this panel, veterans of robotic surgery companies will discuss their thoughts about surgical robotics technology, and where its headed in the near future.
• Nano Technologies for Implantable Devices and Drug Delivery Systems - In this presentation, Murty Vyakarnam, Founder and Principle of VYTAL Group, will discuss the possibilities offered by utilizing nano technologies in bio-medical applications. Vyakarnam will cover specifics concerning recent advances in nano technologies, nano technologies that can alter biological response, and material options for medical implants.
• Challenges and Trends of Wireless Technologies for Wearable Medical Devices - Leaders from Medtronic will cover the challenges that medical device manufacturers are facing in relation to the dependence wearable medical devices have on wireless communication. The presenters will cover the latest wireless trends and technologies for wearable medical devices and how manufacturers can successfully deploy wireless technologies to their devices.
To learn more about the content at BIOMEDevice San Jose, please visit: bmsj18.mapyourshow.com/content
Featured Product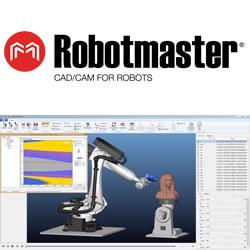 Since Robotmaster V7 uses integrated CAD/CAM functionality, for the first time, the power of Robotmaster can be used by welding, cutting and other process experts without buying or learning complex CAD/CAM software. As in past versions, Robotmaster V7 imports paths, but now makes it even easier for end users to leverage any CAD/CAM tool choice. It is an intuitive tool that anyone could use, with or without robotics expertise. It bridges the gap between robots and manufacturing by providing easy programming solutions for part manufacturing.