MEGASLAB™ Jointless Concrete System utilizes ground-breaking nanotechnology to create an incredibly dense and impermeable slab, eliminating the need for control joints and their associated costs and challenges--a game changer in the world of robotics and automation.
Sinclair Construction Group has announced the launch of MEGASLAB™ Jointless Concrete System. The patent-pending formula in MEGASLAB features ground-breaking technology paired with powerful admixtures that create an incredibly dense and impermeable slab, eliminating the need for installing control joints and their associated costs.

Because control joints lead to costly challenges like curling and spalling, slabs with control joints require more maintenance and upkeep, often leading to ongoing equipment repair, and reduced productivity. Traditional concrete slabs that include rebar and control joints also greatly limit the ability to develop and place the most optimized racking and robotic schematics. MEGASLAB is a complete concrete system that utilizes sophisticated nanotechnology paired with a proprietary blend of durable and flexible admixtures. The result is an impermeable jointless slab with exceptional tensile strength and durability for the heaviest loads and equipment.
According to Jason Adams, CEO of Sinclair and creator of MEGASLAB, "I am confident that in due time MEGASLAB™ will revolutionize the concrete construction industry. The team I have brought together includes renowned industry experts, and through extensive testing and field validation, we've developed a world class concrete product with leading edge innovation. I am so confident in the performance of MEGASLAB™ that I am offering an industry first 10-year warranty."
The introduction of MEGASLAB has been creating some buzz in the industry, with many interested in its application. A major installation is planned for early November, with additional projects forecasted before the end of the year. MEGASLAB is a game changer for industries such as logistics, industrial, food/beverage, aviation, automatic storage & retrieval systems (ASRS), robotics, and many others.
About MEGASLAB
MEGASLAB™ was conceived by Sinclair Construction Group CEO Jason Adams and Sylvester Schmidt, a world-renowned expert in concrete technology. The development of MEGASLAB is the culmination of their tireless pursuit to reinvent concrete, improving the industry for the next generation. MEGASLAB's patent-pending concrete formula marries sophisticated nanotechnology with proprietary admixtures to create an impermeable jointless slab, eliminating the need for rebar and control joints, which drastically reduces installation and maintenance costs. For more information, please visit www.megaslab.com.
Featured Product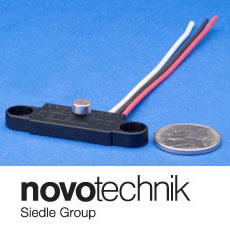 Vert-X 05E Series of dual angle/speed sensors. The series features easy mounting in small and narrow spaces with a 5 mm body depth and mounting flanges with metal inserts. The sensors make measurements only 6 mm from edge of product for close-to-wall measurement applications. Vert-X 05E Series sensors measure angles from 0 to 360°, rotational speed and direction with repeatability to 0.1°.