Xvisio Technology Selected as CES 2019 Innovation Award Honoree
Milpitas, California, December 11, 2018 - Xvisio Technology, a total solution provider of high-speed 6DOF tracking devices for Robotics and Augmented, Virtual and Mixed Reality and related products, will unveil their ultimate VSLAM (Visual Simultaneous Localization and Mapping Solution) product at CES 2019.

Selected last month as a CES 2019 Innovation Awards Honoreein the Robotics and Drones category, Xvisios featured product, the eXLAM-80X, delivers high-speed 6DoF tracking, 3D reconstruction, depth sensing, video capture, object detection and recognition on an edge device for integration into various of cloud connected mobility devices.
"It is a great honor to win the CES 2019 Innovation Award with our eXLAM-80X, an AI powered multi-sensor fusion vSLAM SOM product," said John Lin, CEO of Xvisio. "It is a versatile edge computing platform for robotics, AR/VR, and many other fields. Our customers can leverage our ultra-fast vSLAM solution for 6DOF tracking, real-time scene and object detection with deep learning capability built in on a tiny device. With multiple well calibrated cameras, eXLAM-80X can handle complicated computer vision tasks with OPEN CV easily as well. It works on multiple OS platforms and hardware platform like Raspberry PI. With this platform, our customers can focus on their core competency and build their differentiated products faster, easier, and cheaper. We will start the mass production of the product in Q1, 2019 and start to ship samples in Q4,2018."
Xvisio Technology is a cross border computer vision startup company in Silicon Valley, dedicated to technological innovation in the environmental perception technologies and products for XR and robotics market.
Xvisio collected their Innovation Award accolades in November at CES Unveiled New York, a program that recognizes honorees across 28 product categories. At CES 2019, Xvisio will showcase eXLAM-80X from Booth #50324 in the Eureka Park Marketplace in the Sands Expo Center. Xvisio will also exhibit at CES Unveiled on Sunday, January 6 from 5:00 until 8:30 p.m. at the Mandalay Bay.
For additional information, please visit www.xvisiotech.com.
Featured Product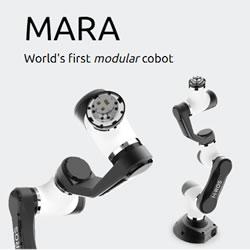 Built out of individual modules that natively run ROS 2.0, MARA can be physically extended in a seamless manner. The modular robot arm delivers industrial-grade features such as a high-speed real time enabled ROS 2.0 communication interface, security protections or a hardware power lifecycle.