Retail Robotics & AI Conference will bring together leading academics and retailers to discuss retail AI strategies and retail robotics trends
CHICAGO, Ill. - During the 2019 National Retail Federation Big Show in New York City, Steven Keith Platt participated in a panel titled, "Why is There a Robot in my Store?" The googly-eyed robot in question, Marty, is manufactured by Badger Technologies and will be operating in 172 Giant Food Stores by the end of 2019. The longer-term plan is to roll out Marty to the 500 supermarkets owned by Ahold Delhaize USA, including GIANT Food Stores, Martin's, and Stop & Shop. Platt, Research Director, Retail Analytics Council, Adjunct Professor, Northwestern University, and Director and Research Fellow, Platt Retail Institute, was joined by Nick Bertram, President, GIANT Food Stores, and Tim Rowland, CEO, Badger Technologies, for the panel, moderated by Joe Skorupa of RIS News.

"There are many emerging applications for front-of-store robots," Platt said. "There are sure to be many more to come in the next several years."
The panel presentation covered topics including how robots have transformed - and will continue to transform - retail operations. "In the future, robots will engage in functions like optical scanning to ensure product freshness, enable continuous inventory tracking via RFID, and stock store shelves, all while collecting massive amounts of data that inform marketing and merchandising decisions," Platt said.
Further discussion on these and many other related topics will take place during the second annual Retail Robotics and AI Conference, presented by the Retail Analytics Council and Platt Retail Institute. The conference will take place on April 11-12, 2019, at the Hilton Orrington Hotel in Evanston, Ill., (next to the Northwestern University campus). The Conference will focus on implementing and executing retail AI strategies, as well as exploring emerging trends in retail robotics. Presentations by leading academics and retailers include:
• U.S.-China Retailers, Consumer Trends, and AI
• Observations on the State of Retail Technology and AI
• How to Implement a Retail Analytics Function
• Advanced Analytics in Customer-Centric Strategies
• Bayesian Machine Learning Applied in Marketing
• Data Privacy
• Robots in Retail Competition Presentations
• Robust Perception for Robotics Systems
• Intelligent Automation
• Current Retail Robot Applications and Benefits
• Future Retail Robot Applications
The format is educational, knowledge advancement-based, with many opportunities to interact with the presenters and attendees. The Conference offers a unique opportunity to participate in the development of the retail industry's research and technology through interaction with academics and professionals by means of expert panel discussions. Attendance is open to retailers only and space is limited.
Get additional information about the Retail Robotics and AI Conference here.
View the NRF presentation here. https://nrf.app.box.com/s/9sah9f44svc7jn2ebxyua8vf8uet2bxa/file/393248060131
About Platt Retail Institute
PRI is an international consulting and research firm that focuses on leveraging technology to impact the consumer experience. Central to this is building actionable data models that aid retailers and technology companies in gaining insights into their customers and operations. In addition to its global consulting expertise, PRI also publishes pioneering industry research. For more information, visit www.plattretailinstitute.org.
About Retail Analytics Council
The Retail Analytics Council (RAC) is the leading organization focused on the study of consumer shopping behavior across retail platforms and the impact of technology. Established in August 2014, RAC is an initiative between Medill's Integrated Marketing Communications department, Northwestern University and the Platt Retail Institute. For more information, visit rac.medill.northwestern.edu.
Featured Product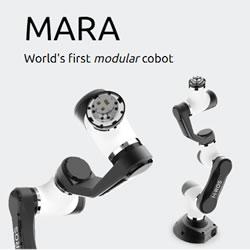 Built out of individual modules that natively run ROS 2.0, MARA can be physically extended in a seamless manner. The modular robot arm delivers industrial-grade features such as a high-speed real time enabled ROS 2.0 communication interface, security protections or a hardware power lifecycle.