3rd World Conference on Robotics and Artificial Intelligence (Robotics-2020) will be held at Saint Petersburg, Russian Federation during June 18-19, 2020. The goal of the Conference is to bring together scientists, researchers, engineers, practitioners from academia and industry, experts in application fields and also doctoral students from all over the world to meet and discuss the emerging trends and technology advancements in the area of Robotics and Artificial Intelligence. The event will have 5-6 world level (Highly cited class) plenary speakers, established Keynote speakers, active Invited speakers and fresh contributed speakers. In addition, variety of poster presentations along with workshops and special sessions would be interested in audience.
The 3rd International Conference on Robotics and Artificial Intelligence-(Robotics-2020), will be going to held in Saint Petersburg, Russian Federation from 18-19 June 2020. This conference is a leading forum where state-of-the-art innovative results, the latest developments as well as future perspectives relating to Robotics and Artificial Intelligence are presented and discussed. The theme for ROBOTICS-2020 is: "Emerging Trends in Robotics and Recent Advancements in Artificial Intelligence". Robotics and AI continue to have a profound impact on business and civil society bringing significant benefits, but at the same time creating new risks and challenges. This year's conference particularly welcomes novel work on robotics and Artificial intelligence applications that are safe, secure, sustainable, law-abiding and ethical.

The main conference will host presentations of original contributions including new methods, studies, designs, theories, and applications of robotics and artificial intelligence or surrounding it. Multi-disciplinary approaches and practical solutions are highly encouraged. The workshops, tutorials, and industrial sessions will provide an opportunity for participants from academia and industry to focus on prospective topics. Expert Keynote speakers from academia, industry, end users and policy-making bodies will give plenary talks about emerging technologies, methods,
Featured Product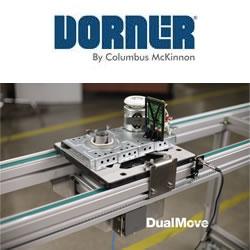 Dorner's 2200 Series Precision Move Pallet Systems are ideal for assembly automation. With features such as an innovative timing belt conveyor design and industry best pallet transfers, they get your product to the exact location, at the exact time and in the exact position it needs to be. They are now available with new options such as heavy load corner modules with 150 lb. capacity and 180 degree tight transfer corners for compact loops.