The Rheinau-based automation specialist strengthens its activities in Central America
As of August 2021, Zimmer Group will be represented by its own branch office in Querétaro, Mexico, thus remaining on course for further growth. In addition to its headquarters in Rheinau, Germany, the company now has 13 of its own locations worldwide.

Started as a garage company 40 years ago in Rheinau, Baden, Germany, the Zimmer Group is one of the world's leading manufacturers of automation, machine and furniture damping components and process engineering, with more than 1200 employees. In addition, it is an important and valued partner for system solutions for numerous well-known national and international companies in the fields of mechanical and plant engineering as well as the aviation, automotive and furniture industries.
The decision to establish its own subsidiary in Mexico is an important part of the Zimmer Group's global expansion strategy: "In the past, the Mexican market was successfully developed by a local dealer. A few years ago, strong demand and the wishes of our customers prompted us to set up our first own sales team through our then US subsidiary. Mexico is one of our key markets. In order to further strengthen our local market presence, we have now established our own company - Zimmer Automation S. de R.L. de C.V. - in Querétaro," explains Vincent Zimmer, the new Managing Director of the Mexican branch.
Since Zimmer Group customers will continue to be supplied directly from Germany, the Mexico headquarters will focus primarily on sales, consulting and after-sales. "Only locally we can care for the customers in a market as important for us as Mexico, as intensively as they are used to from the KNOW-HOW FACTORY," Vincent Zimmer emphasizes in conclusion.
Next step in the generation change of the Zimmer Group completed
As the son of the company's founder Günther Zimmer, Vincent Zimmer was involved in his own company from an early age. Before the economist was appointed Managing Director this year, he had already gained some experience in an internationally renowned mechanical engineering company. Most recently, he took the opportunity to gain further experience in international sales and marketing as an assistant to the Zimmer Group management, and most recently as a business development manager in the USA, thus expanding his knowledge in these areas. In addition to his role as Managing Director for Mexico, Vincent Zimmer will continue to work as Business Development Manager in the USA, where he will develop and support selective key account customers.
The Zimmer Group, which was founded by the two brothers Günther and Martin Zimmer more than 40 years ago in a converted cowshed in Rheinau, is an owner-managed family company that places great value on future-proof succession in family hands. Thus, a large part of the offspring of the two company founders is already employed in the company. In the meantime, seven of the ten children of the two partners are already working in the Zimmer Group in very different areas. The goal is to lead the family business step by step into the so-called "next generation" in a joint process in the coming years. With Vincent Zimmer, a further step in this direction has now been taken.
Featured Product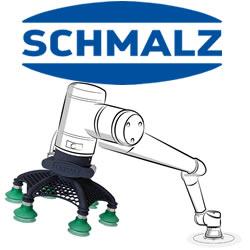 In order to interact with their environment and perform the tasks, lightweight robots, like all industrial robots, depend on tools - and in many cases these are vacuum grippers. These form the interface to the workpiece and are therefore a decisive part of the overall system. With their help, the robots can pick up, move, position, process, sort, stack and deposit a wide variety of goods and components. Vacuum gripping systems allow particularly gentle handling of workpieces, a compact and space-saving system design and gripping from above. Precisely because the object does not have to be gripped, the vacuum suction cupenables gapless positioning next to each other.