• Collaboration is another milestone in ABB's strategy of building an ecosystem of expert partners to provide easy-to-use solutions • Scalable Robotics technology allows customers to easily program welding robots without any robotics experience
ABB is entering into a strategic partnership with US-based startup Scalable Robotics, to enhance its portfolio of user-friendly robotic welding systems. Through 3D vision and embedded process understanding, the Scalable Robotics technology allows customers to easily program welding robots without the need for coding. ABB Technology Ventures (ATV), the venture capital unit of ABB, will be the lead investor in Scalable's seed funding investment round. ABB did not disclose the level or the terms of the investment.

The investment is another milestone in ABB's ecosystem strategy of partners who provide easy-to-use solutions for a variety of applications and industries.
"Businesses are looking to robotics to help build resilience, flexibility and efficiency in the face of global challenges including labor shortages, disrupted supply chains and uncertainty," said Marc Segura, President, Robotics Division at ABB. "In the US alone, it is estimated there will be a shortage of 400,000 welders by 2024. To tackle this, we need to aid the adoption of robots by providing technology that is simple to use and easy to program, enabling manufacturers to easily introduce automated solutions that can weld more parts in less time while minimizing scrap and maximizing quality."
Scalable's technology enhances ABB's existing portfolio of no-code programming applications that help to remove the need for specialized programming knowledge. The Scalable platform allows a welder to teach a task to the robot by pointing to where the weld should be applied, with the robot learning the path on its own. The platform features a 3-D camera in a protective box attached to the robot end-of-arm tooling, and uses a touchscreen interface to guide the welder through the scan, teach, validate and tuning steps.
The welder teaches the robot the positions of the welds by clicking a handheld stylus to indicate the desired approach, path and departure points of the weld. The platform automatically generates a weld path that is validated within RobotStudio®, ABB's leading simulation and programming software. The operator makes any final modifications before the robot auto-tunes the program and sends it to the robot controller so the weld can be performed.
"We founded Scalable Robotics on the premise that industrial robots are tools that should be available to enterprises of all sizes and levels of technical sophistication," said Tom Fuhlbrigge, Founder and CEO of Scalable Robotics. "Our novel human-robot interaction techniques enable people who know the arc welding process to intuitively show the robot what needs to be done with no robot experience required. We are very excited to join forces with ABB - they are the ideal partner to help bring this technology to the market on a global scale."
ABB (ABB: NYSE) is a leading global technology company that energizes the transformation of society and industry to achieve a more productive, sustainable future. By connecting software to its electrification, robotics, automation and motion portfolio, ABB pushes the boundaries of technology to drive performance to new levels. With a history of excellence stretching back more than 130 years, ABB's success is driven by about 105,000 talented employees in over 100 countries. www.abb.com
ABB Robotics & Discrete Automation is a pioneer in robotics, machine automation and digital services, providing innovative solutions for a diverse range of industries, from automotive to electronics to logistics. As one of the world's leading robotics and machine automation suppliers, we have shipped more than 500,000 robot solutions. We help our customers of all sizes to increase productivity, flexibility and simplicity and to improve output quality. We support their transition towards the connected and collaborative factory of the future. ABB Robotics & Discrete Automation employs more than 11,000 people at over 100 locations in more than 53 countries. go.abb/robotics
Scalable Robotics enables any size manufacturer to quickly and easily create robot programs through its code-free, CAD free, point and click programming interface. Scalable's unique solution solves the remaining expensive parts of robotics automation by: reducing training from weeks to hours with no new skills for the welder, reducing programming from whole shifts to minutes with no CAD at all, and changing fixturing needs from expensive and fixed to inexpensive and adaptable. With Scalable's technology, any manufacturer can now automate cost effectively in today's highly competitive marketplace.
scalablerobotics.ai
Featured Product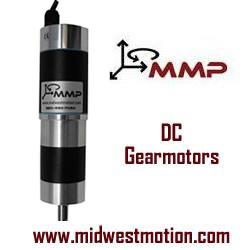 MMP is well known for our Lightning-Fast Delivery Capability, Huge On-Hand Inventory, High Volume Capacity and Time Tested and Proven Reliability Methods. Our 100+ years of combined work experience and being able to deliver continual committed service to design and engineer ideas into reality gives us a competitive advantage in the motion control industry. If you need a sample right away, we can be a project-saving convenience for you, so contact us today!!