Appointments showcase GreyOrange's commitment to unparalleled industry counsel, customer experiences and employee relations management
Global leader in automated robotic fulfillment and inventory optimization software GreyOrange Inc., announces four key leadership appointments:

Jim Stirewalt, managing partner of the GO5 consulting team;
Tom Cherryhomes, vice president of goPartner™ and alliances;
Ruchira Garg, vice president of people operations;
Stacy Groves, vice president of customer success management.
This demonstrates the company's commitment to global customers by providing counsel from industry experts and stellar customer experiences stemming from forward-thinking employee relations management.
"Jim, Tom, Ruchira and Stacy lead essential focal areas for GreyOrange, from developing and nurturing customer and partner relationships to recruiting and retaining exceptional talent that will directly contribute to and accelerate our ambitious global growth strategy," said Samay Kohli, co-founder and CEO, GreyOrange. "Their appointments reflect our commitment to providing exceptional customer experiences, expanding our strategic partnerships, and strengthening GreyOrange's position as an industry leader."
Stirewalt possesses over 25 years of experience building and executing growth strategies for emerging startups and large enterprises, serving as a leader for companies including IBM and SAP. As a leader of the GO5 consulting team that supports global customers on the journey of taking their warehouse automation to the next level, Stirewalt will analyze current and future customer challenges to provide industry-specific guidance and solutions for clients' fulfillment challenges and needs.
Cherryhomes is a 30-year logistics and supply chain veteran, with experience in production and fulfillment, business development, and technology leadership. His responsibilities include creating and implementing strategies for managing and jointly growing revenue through partnerships. Cherryhomes' previous experience includes leadership for robotics startup Fabric, CEVA Logistics in the U.S., Sun Microsystems, Silicon Graphics, and IBM.
Garg brings nearly 20 years of experience in human relations (HR) for leading technology companies including VMWare, Adobe, Sapient and Avaya. Her wide range of experience in HR business partnership, employee relations, and operationalizing HR processes for scaling fast-paced organizations, will be utilized as tremendous assets for preparing the GreyOrange team for continued growth.
Groves has more than two decades of leadership experience in supply chain management, from tech solutions and implementation to customer counsel. Drawing from his leadership experiences that include Ashley Furniture and Abercrombie & Fitch, Groves will focus on process improvement to ensure all GreyOrange clients experience stellar customer service and counsel during all phases of scaling as well as day-to-day operations.
GreyOrange provides business solutions that support customers with faster, sustained overall growth. This team of new leaders is GreyOrange's latest demonstration of its ability to scale while helping customers grow by providing great counsel and partnership.
Featured Product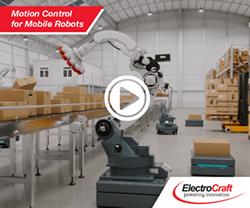 ElectroCraft is showcasing its award-winning mobile robot technology including their powerful and compact wheel drives, high-torque-density brushless DC motors, precision linear actuators as well as servo motor drive technology at a variety of conferences and tradeshows including the Boston Robotics Summit. Robotics Summit is the premier symposium for the sharing of ideas, technology, and market developments for robotic technologies across industries. Beyond a showcase and pitch of product, ElectroCraft is eager to participate in the collaborative discussion of challenges and opportunities that will shape the near and long-term robotic marketplace.