Market Leader Now Live at 22 Health Systems Nationwide, Expects to Triple Customer Footprint Over Next 24 Months
Diligent Robotics, the undisputed leader in robotic automation in health care, today announced $25 million in new financing led by Canaan, with True Ventures, DNX Ventures, Next Coast Ventures among the return investors and Northwestern Medicine Innovation joining as a new strategic investor. Rich Boyle from Canaan will join the board of directors. The company will use the funds to fuel system-wide expansions of its revolutionary Moxi robot across hospitals nationwide, enhance product development and triple its market reach.

Moxi is a testament to the clear value of using robotic automation to augment and support frontline hospital care teams, but also our highly customer-centric approach to bringing new technology and operational change into healthcare," said Andrea Thomaz, Ph.D., Diligent Robotics' co-founder and CEO. "We approach our work with deep empathy for the people who care for patients every day, and it has been incredible to witness the difference Moxi makes in supporting nursing, pharmacy, lab and entire clinical care teams. This funding round will enable us to scale fleets and accelerate product development while remaining true to our vision of creating robots that function as core team members and elevate the standards of healthcare through robotics."
Diligent Robotics is the creator of Moxi, the first and only socially-intelligent robot teammate in the field today who works across health systems to improve operational efficiency of hospital care teams so they have more time for patient care and can practice at the top of their license. Founded by Dr. Andrea Thomaz and Dr. Vivian Chu, Diligent Robotics' state-of-the-art robotics technology enables robots to collaborate within and adapt to human environments. Moxi's impact includes augmenting staff and care teams by off-loading hospital-wide deliveries of supplies, equipment, medication and lab deliveries and is increasingly enabling new and existing high value programs to efficiently scale, such as Meds to Beds programs, Just in Time Logistics and Virtual Nursing.
Currently adopted by and operating in more than 22 health systems that represent more than 200 hospitals nationwide, including NorthShore - Edward-Elmhurst Health, MultiCare Health System, The University of Texas affiliated network of health systems, Northwestern Medicine and many others, the company expects to triple its market footprint over the next 24 months, including systemwide expansion within the majority of the health systems.
"As an organization driven by our Patients First mission, we continue to explore ways innovation and technology can support our clinicians and staff to enhance their ability to care for our patients," said Doug King, senior vice president and chief information officer at Northwestern Medicine. "Led by our team at the Northwestern Medicine Mansueto Innovation Institute, we deployed Moxi in targeted areas throughout Northwestern Memorial Hospital to support clinical staff by automating and scheduling pickups of non-tubable lab specimens and medications. Introducing this technology had a positive impact on staff and workflow. We are looking forward to deploying Moxi throughout our health system in the near future."
Diligent Robotics Surpasses Customer, Manufacturing Milestones, Autonomy Metrics
This round of funding comes on the heels of a record year for Diligent Robotics, as the company has continued to make significant progress across product development, customer implementation strategy and manufacturing capacity. The company has inked new strategic partnerships and collaborations with leading healthcare institutions and scaled manufacturing. Diligent has also refined a quality assurance process that enables the building of multiple robots in various stages of production, increasing manufacturing capacity which has led to a reduced deployment window for Moxi. On average, services are live in less than 30 days from robot arrival.
Diligent Robotics also surpassed many impressive autonomy metrics including the completion of more than 400,000 total deliveries giving more than 200,000 hours back to staff to instead spend with patients. Utilizing their state-of-the-art mobile manipulation approach for human environments, Moxi robots have autonomously opened hundreds of thousands of doors over the past year and in the last month alone, Moxi has autonomously navigated elevators tens of thousands of times.
Of note, Children's Hospital Los Angeles was the first children's hospital to implement Moxi. There are two Moxi robots delivering medications and pharmaceutical items 24/7 along various routes throughout the hospital. In just over four months, Moxi has made more than 2,500 deliveries, traveled 132 miles, and saved staff more than 383,000 steps and 1,620 hours of work time. Diligent Robotics has signed on several children's hospitals in recent months and expects to increase its market share even further among children's hospitals in 2024.
"With healthcare staffing needs continuing to exceed the labor available, hospitals must make the best use of their constrained workforces to meet demand. That means finding new efficiencies in previously unaddressable areas and offering staff members a return to their most fulfilling work," said Rich Boyle, general partner at Canaan. "Moxi has already been eagerly adopted by many of the nation's top healthcare systems, and the positive impact on productivity, patient outcomes, and team morale is evident. Both are reasons we believe Diligent Robotics has a big future and are thrilled to be leading this newest round of financing."
Featured Product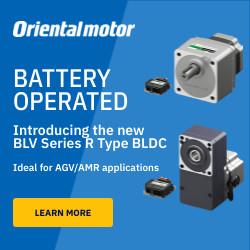 The BLV Series R Type brushless DC motor (BLDC motor) speed control system offers the design of motor and driver significantly reduced in size and weight, yet high-power, and contributes to the battery driven automation. The BLV Series R Type is compatible with the two interfaces of Modbus (RTU) and CANopen communication.