Locus Experts to Detail Flexible, Scalable Automation for Peak Season and Beyond in two key speaking sessions
Locus Robotics, a global leader in warehouse automation, today announced it will showcase its innovative autonomous mobile robots (AMRs) and deliver two prominent speaking sessions at the Logistics Summit in Dusseldorf, Germany on October 11-12.

The sessions will highlight how Locus's AMRs and Robots-as-a-Service (RaaS) model enable flexible, scalable automation to optimize efficiency during peak periods and beyond. Locus experts will also demonstrate how the company's AI-enabled robots can work collaboratively with warehouse staff to dramatically improve productivity, consistency and throughput.
Locus Robotics Business Development Manager, Mischa Pick, will present "Scalable, Flexible, Future-Proof - The Advantages Of Robots-as-a-Service For Your Intralogistics." This session will highlight how Locus's RaaS model enables the fast deployment of flexible warehouse automation without major upfront investments while delivering a fast ROI.
In the second session, Malte Guske, Business Development Manager at Locus, will present "How To Overcome Peak Season With Flexible Automation," demonstrating how Locus robots provide scalable, flexible automation to address labor shortages and seamlessly manage volume spikes, especially during peak periods.
"We're excited to showcase Locus's transformative warehouse technology again at this premier European logistics event," said Denis Niezgoda, Vice President, EMEA & APAC. "Our robots deliver the ultimate in productivity and flexibility, optimizing warehouse operations today while rapidly scaling to meet future business needs."
Locus Robotics' AMRs optimize warehouse efficiency by intelligently collaborating with human workers. LocusBots boost productivity 2X-3X by eliminating unproductive walking and heavy cart pulling for workers. The robots optimize throughput in brownfield and greenfield warehouses, and 0sites with multi-level mezzanines. Workers benefit from significantly improved ergonomics and a better overall work environment. Locus's AI-driven software, LocusOne, delivers predictive and forward-looking management insight for planning, labor allocation, and operational optimization.
During Logistics Summit, Locus will feature live demos of its multi-bot systems seamlessly working together with people to drive efficiency across distribution, fulfillment and manufacturing environments at Stand E5 in Hall 2.
About Locus Robotics
Locus Robotics' revolutionary, multi-bot solution incorporates powerful and intelligent autonomous mobile robots that operate collaboratively with human workers to dramatically improve piece-handling productivity 2X-3X, with less labor compared to traditional piece handling systems. Locus helps retailers, 3PLs, and specialty warehouses efficiently meet and exceed the increasingly complex and demanding requirements of fulfillment environments. LocusBots may be easily integrated into existing warehouse infrastructures and new warehouses without disrupting workflows. For more information, visit www.locusrobotics.com.
Featured Product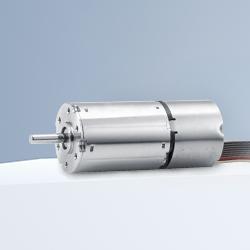 Autonomously driving and self-contained logistics robots are a critical component of "Intralogistics 4.0". They are used for storage as well as removal and dispatch preparation, optimize material flow and relieve employees. Thanks to their performance and modular design, drive systems from FAULHABER meet the high demands of modern intralogistics.