Vayu is poised to disrupt the market by creating the lowest cost ownership for robots with the best operational economics," said Anand Gopalan, CEO at Vayu Robotics.
Vayu Robotics, an AI company providing high-quality, low-cost robotics solutions, today announced closure of its seed financing round of $12.7 Million led by Khosla Ventures, with participation from Lockheed Martin Ventures, ReMY Investors and others. Vayu is a non-traditional robotics company taking a principles-first approach to solve for cost and ease of deployment through two key technologies: a foundation model for mobility and a disruptive low-cost sensing technology that could replace lidar in many mid-range applications. This round of funding will enable Vayu to scale product development for AI robotics across markets, including last-mile delivery, factory automation and automotive.

Vayu has been built from the ground up by experts in machine learning, sensor development and industrial manufacturing, including co-founders Anand Gopalan, former CEO of Velodyne Lidar; Mahesh Krishnamurthi, formerly of Lyft and Apple; and Nitish Srivastava, formerly of Apple and University of Toronto. The rise of new AI technologies has enabled robots to perform more general tasks in a way that has not been possible previously. Additionally, as companies in the U.S. seek to become less reliant on overseas production by revitalizing domestic manufacturing capacity and competitiveness, the demand for robotics and automation will continue to grow. Vayu's technology is at the convergence of these two trends, enabling the next wave of sustainable and accessible robotics, most immediately for last-mile delivery.
"Vayu is poised to disrupt the market by creating the lowest cost ownership for robots with the best operational economics," said Anand Gopalan, CEO at Vayu Robotics. "We have built an incredibly strong team of engineers with expertise in hardware and software. With this latest round of investment, our team is positioned to bring Vayu's novel technology to the market through our first customers."
"At Khosla Ventures, we bet early on bold ideas that could be impactful to society," said Kanu Gulati, partner at Khosla Ventures. "In Vayu, we see a team that is one of the first to leverage advanced sensing technology for machines to be able to navigate the world in a way they could not previously, taking robotics to a new place."
​​"Vayu is leveraging modern technology in creative ways that fits with Lockheed Martin's 21st Century Security vision," said Chris Moran, vice president and general manager at Lockheed Martin Ventures. "Vayu Robotics has a viable avenue to provide our customers with cutting-edge and cost-effective robotic systems that can introduce a new wave of intelligent, autonomous solutions across multiple domains."
About Vayu Robotics
Vayu Robotics is an AI company driven by the belief that the next wave of robotics solutions can be low cost, environmentally sustainable and inherently scalable. Vayu envisions a world where a new wave of intelligent systems will advance safe and sustainable human productivity. Vayu is building the foundation model for robotics - the next generation of AI to power perception and motion. Vayu's team of engineers, technologists and business leaders come with decades of experience that bring together the best in machine learning, sensing and production, enabling the development of technology that will democratize robotics for widespread adoption.
Featured Product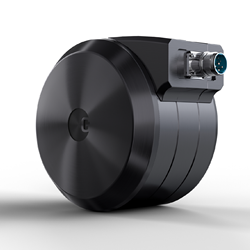 Welcome to the next generation of robotics and machinery. LiveDrive LDD is a unique direct drive motor that overcomes almost every limitation of servo geared solutions. A 50% reduction in length from typical geared motor is possible with Genesis direct drive motors. Choose to simplify machine designs and have a shorter footprint while having high performance, accuracy, and efficiency.