Wielding deep experience with the military's robotic operating system, Stratom is helping define requirements for how the Army will deploy small uncrewed ground vehicles
BOULDER, Colo. — Oct. 4, 2023 (AUSA 2023, Booth #522)— Stratom, a leading developer of autonomous ground vehicles and robotic systems for logistics and operational applications, today announced its inclusion in the design and development of the initial ROS-M operational and architectural models shaping SUDS — small UGVs as deployable sensors — prototypes, platforms and payloads.

"Participation in this project represents a remarkable opportunity to determine requirements for SUDS vehicles in a top-down, programmatic design fashion and contribute to the evolution of innovative military operations," said Andrew Lycas, Principal Roboticist at Stratom. "With our deep understanding of autonomous systems and proven track record in harnessing autonomy to solve real-world challenges in logistics and operational applications, we are committed to collaborating with this unique industry group and DoD decision-makers to build versatile and effective robotic solutions that keep soldiers safe and protect our national security."
As one of the three principal contributors to this government initiative, Stratom brings considerable experience and expertise in autonomous operations and logistics. Neya Systems is leading the SUDS effort, contributing to defining architectural standards for all future autonomous ground vehicles within the Department of Defense. RRAI also contributes its two-plus decades of vehicle autonomy experience to the task request.
Stratom's work on the project will focus on modeling out three initial operational missions to fully exploit the potential of SUDS platforms. These missions include the following:
1. Listening Point/Observation Point: In this mission, autonomous ground vehicles with advanced sensors and communication capabilities will help establish discreet observation points, enabling real-time data gathering in critical areas.
2. Route/Area Recon: Autonomous ground vehicles will conduct reconnaissance of designated routes to assess potential threats and hazards, providing vital intelligence to ensure military convoy safety.
3. Clearing Danger Areas: Leveraging autonomy, the consortium will explore how small vehicles can efficiently identify and neutralize threats in dangerous zones, mitigating risks to human personnel.
Stratom's selection for this task request is rooted in the company's extensive background in understanding and catering to the unique requirements of the government and military sectors. Past engagements with Robotic Technology Kernel migration and in developing state-of-the-art robotic systems tailored for governmental applications helped earn the leading autonomous systems developer a position as a partner in the development of prototype software, websites, simulations and algorithms (including supporting artifacts) supporting one or more SUDS platforms and payloads.
The Stratom team brings unique and invaluable expertise to this initiative with its in-depth knowledge of how to effectively integrate robotic vehicles and work with RTK Lite. Their work incorporates aspects from the best of all Ground Vehicle Systems Center programs to boost the military's autonomous capabilities. Stratom's divergent viewpoint and background in exact modeling can help break these missions into smaller-scale operational action items from a robotics perspective.
Stratom submitted a response to this competitive prototype project solicitation, which was released to members of the National Advanced Mobility Consortium (NAMC). Through NAMC, members are given access to competitive opportunities directed by the Government and professional opportunities for teaming and business development. This effort was sponsored by the U.S. Government under Other Transaction number W56HZV-23-9-D001 with the National Advanced Mobility Consortium, Inc.
For more information about Stratom's work in leading autonomous solution innovation that will transform the future of robotics in military applications, visit stratom.com. Stratom will be showcasing its solutions at the AUSA 2023 Annual Meeting and Exposition from October 9-11 at booth #522.
About Stratom
Stratom is a global leader in the development of autonomous ground vehicles and robotic systems that solve the most pressing real-world logistics and operational challenges for commercial and defense applications. Specializing in autonomous cargo movement, robotic refueling, robotic hazardous liquid transfer and autonomous mobile robots (AMRs), the company's military-proven tools, methods, technologies and strategic services solve the most difficult logistics and operational challenges. Whether in safe, controlled settings or dynamic and challenging terrain, Stratom provides unique solutions to meet each customer's specific needs. With its extensive expertise in R&D, engineering and system integration of autonomous technologies and solutions, Stratom, a Service-Disabled Veteran Owned Small Business, is the go-to expert for global corporations, local businesses and government institutions. To learn more, visit www.stratom.com. Follow us on Twitter and LinkedIn.
Featured Product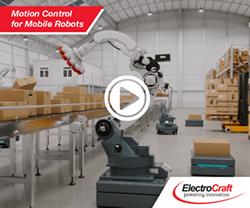 ElectroCraft is showcasing its award-winning mobile robot technology including their powerful and compact wheel drives, high-torque-density brushless DC motors, precision linear actuators as well as servo motor drive technology at a variety of conferences and tradeshows including the Boston Robotics Summit. Robotics Summit is the premier symposium for the sharing of ideas, technology, and market developments for robotic technologies across industries. Beyond a showcase and pitch of product, ElectroCraft is eager to participate in the collaborative discussion of challenges and opportunities that will shape the near and long-term robotic marketplace.