Perception Engineers Can Leverage Thermal Imaging Data with Computer Simulations to Enhance Performance and Accelerate the Development of ADAS and AV systems
Improving vehicle perception in all weather and lighting conditions is critical to reducing the record number of pedestrian fatalities in the United States and making autonomous vehicle (AV) systems safer. In June 2023, GHSA projected that 7,508 pedestrians were killed in traffic crashes in 2022, the highest number of pedestrian deaths since 1981. Consistent with prior years, most pedestrian fatalities occurred at night. In 2021, 77.1% of crashes with known lighting conditions occurred after dark.

One key to improving ADAS and AV systems is to integrate longwave infrared data within the existing suite of sensors on vehicles in development today. Thermal detection fills the gaps in perception capabilities and offers redundancy by working with visible cameras, radar, and LIDAR sensors. More importantly, thermal camera-enhanced ADAS and AV systems can play a crucial role in helping to lower the number of pedestrian traffic fatalities and aid automotive original equipment manufacturers (OEMs) in meeting upcoming regulatory testing procedures, including nighttime pedestrian front crash prevention.
To support the creation of more effective ADAS and AV systems, Teledyne FLIR is collaborating with Ansys, the leader in engineering simulation software, to facilitate development with thermal imaging data to improve pedestrian automatic emergency braking (AEB) systems. The Ansys AVxcelerate Suite, now available with Thermal by FLIR, represents a new tool for perception engineers and designers to help fast-track the integration of thermal imaging in ADAS and AV sensor stacks and to improve the accuracy of perception algorithms. Engineers can easily simulate millions of miles and difficult-to-produce scenarios where thermal cameras provide critical data - including detecting pedestrians in crowded and low-contrast environments such as fog or smoke.
The Ansys AVxcelerate Suite is complemented by Teledyne FLIR's Prism AI, which can be used as a primary perception or reference software during in-house development. The suite of Prism AI tools provides simplified data integration with Teledyne FLIR Conservator™ data lifecycle management software as well as the industry's largest thermal-and-visible training dataset.
"The Ansys AVxcelerate Suite represents another critical tool for perception engineers to convert thermal imaging data into life-saving technology," said Mike Walters, vice president, product management, Teledyne FLIR. "Organizations ranging from academia to automotive OEMs now have a complete ecosystem from the virtual to the physical world to build life-saving thermal-enabled ADAS and AV systems."
For more information about the thermal sensors for ADAS and AV, visit www.flir.com/adas.
To learn more about the Ansys AVxcelerate Suite, visit https://www.ansys.com/products/av-simulation/ansys-avxcelerate-sensors
Featured Product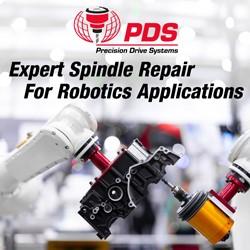 Precision components machined by CNC robot machining systems require compact, lightweight, and high-speed motorized spindles capable of delivering higher efficiency, performance, and reliability than those used in many other industries. That's why manufacturers of milling, cutting, trimming, grinding, polishing, and deburring trust Precision Drive Systems (PDS) to provide accurate and dependable spindle repair to perform to the most exacting standards.