Presentation Showcases Dr. Husam Balkhy's Experience in Performing Over 200 Automated Anastomosis Connector Bypass Procedures
REDWOOD CITY, Calif., Sept. 9, 2011 /PRNewswire via COMTEX/ -- Cardica, Inc. (Nasdaq: CRDC) today reported that its C-Port Flex-A Anastomosis System will be featured in a clinical presentation to cardiothoracic surgeons this afternoon at the East Carolina Heart Institute-International Society for Minimally Invasive Cardiothoracic Surgery (ECHI-ISMICS) Summit in Greenville, North Carolina. The presentation, entitled "Robotic Coronary Revascularization: Connectors and Pearls," will be given by nationally-renowned cardiothoracic surgeon, Husam Balkhy, M.D., director of the Center for Robotic and Minimally Invasive Cardiac Surgery at The Wisconsin Heart Hospital, Milwaukee, Wisconsin.

"Dr. Balkhy has been using our anastomosis systems to attach the bypass graft vessels during minimally invasive cardiac surgery, for many years, with remarkable success," said Bernard A. Hausen, M.D., Ph.D., president and chief executive officer of Cardica, Inc. "This presentation offers other cardiothoracic surgeons the opportunity to see first-hand the difference between a connector bypass procedure using our automated anastomosis device compared to hand-sewing the anastomosis."
The presentation details how Dr. Balkhy uses Cardica's C-Port systems to perform a connector procedure, including selection of graft vessels, a description of the features and benefits of the C-Port system, and the mechanics of deployment during connector procedures on a beating heart in the closed chest setting, also known as a totally endoscopic coronary artery bypass (TECAB) procedure. In addition, Dr. Balkhy's use of the C-Port systems is described in the current peer-reviewed issue of TheAnnals of Thoracic Surgery in an article entitled "Integrating Coronary Anastomotic Connectors and Robotics Toward a Totally Endoscopic Beating Heart Approach: Review of 120 Cases."Dr. Balkhy is a recognized expert in the field of minimally invasive and robotic cardiothoracic surgery and has pioneered the connector procedure. He has trained physicians around the world on his technique using Cardica's C-Port Flex-A System.
About Cardica
Cardica designs and manufactures proprietary stapling and anastomotic devices for cardiac and laparoscopic surgical procedures. Cardica's technology portfolio is intended to minimize operating time and enable minimally-invasive and robot-assisted surgeries. Cardica manufactures and markets its automated anastomosis systems, the C-Port Distal Anastomosis Systems and PAS-Port Proximal Anastomosis System, for coronary artery bypass graft (CABG) surgery and has shipped over 36,000 units throughout the world. In addition, Cardica is developing the Cardica MicroCutter XPRESS(TM) 30, a true multi-fire laparoscopic stapling device designed to be used in a variety of procedures, including bariatric, colorectal, thoracic and general surgery. The Cardica MicroCutter products require 510(k) review and are not yet commercially available in the U.S.
Featured Product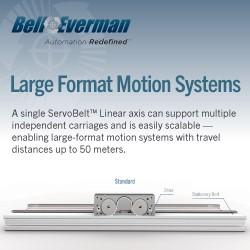 Manufacturing and packaging operations that still depend on manual material or parts handling operations can reap immediate benefits from a type of automation based on long-travel Cartesian robots with custom end-of-arm tooling (EOAT) and advanced sensing capabilities. These robots can support a variety of machines - performing otherwise manual tasks such as machine tending or transferring in-process parts - making long-travel Cartesian transfer robots a major upgrade to processes and operations. Download the White Paper from Bell-Everman