Leaders of Educational, Industrial, Medical, Military, and Mobile robotics markets will converge in Boston on November 2-3
Framingham, Mass. - October 3, 2011 - RoboBusiness Leadership Summit, the international executive-level business development event for technology innovators, management and developers of robotics companies, investors, specifiers and users of robotics products, today announced the current list of forward-thinking, industry-driving sponsors. The RoboBusiness Leadership Summit will take place November 2-3, 2011, at the Sheraton Boston Hotel, Boston, Massachusetts. For more information and to register visit www.robobusiness.com.

Founding Sponsor:
iRobot, designs and builds robots that make a difference. The company's home robots help people find smarter ways to clean, and its government and industrial robots protect those in harm's way. iRobot's consumer and military robots feature iRobot Aware® robot intelligence systems, proprietary technology incorporating advanced concepts in navigation, mobility, manipulation and artificial intelligence.
"iRobot is pleased to once again join the RoboBusiness Leadership Summit as Founding Sponsor," noted Colin Angle, iRobot chairman and chief executive officer. "RoboBusiness is an excellent forum for showcasing innovation, as well as for bringing industry leaders together to generate the sales, partnerships and investment opportunities that will help to grow the robotics industry."
Platinum Sponsors:
Aethon is a leader in healthcare Supply Chain Logistics and Workflow Solutions, providing innovative solutions that improve efficiencies, increase asset utilization, and ensure regulatory compliance. Aethon's core technology platform is a proprietary autonomous mobile robot, the TUG, which is the only full function commercially available robot in the world. It is currently used in over 120 hospitals in the USA.
VEX Robotics, Inc., a wholly owned subsidiary of Innovation First International, is a leading provider of educational robotics products to middle schools, high schools and colleges around the world.
\"VEX Robotics is pleased to be a top supporter of the RoboBusiness Leadership Summit. As the leader in educational and competition robotics equipment used in the classroom, it\'s critical that we stay on top of key trends, technology advancements and happenings in the industry," said Paul Copioli, president of VEX Robotics, Inc. \"This gathering affords us access to thought leaders across many segments of the robotics industry which will help inform us and position VEX for the next generation of products and solutions.\"
Deere & Company (NYSE: DE) is a world leader in providing advanced products and services and is committed to the success of customers whose work is linked to the land - those who cultivate, harvest, transform, enrich and build upon the land to meet the world\'s dramatically increasing need for food, fuel, shelter and infrastructure. Since 1837, John Deere has delivered innovative products of superior quality built on a tradition of integrity.
Gold Sponsor:
With more than 375 intellectual property lawyers, Finnegan is one of the largest IP law firms in the world. From offices in Washington, DC; Atlanta, Georgia; Cambridge, Massachusetts; Palo Alto, California; Reston, Virginia; Brussels, Belgium; Shanghai, China; Taipei, Taiwan; and Tokyo, Japan, the firm practices all aspects of patent, trademark, copyright, and trade secret law, including counseling, prosecution, licensing, and litigation. Finnegan also represents clients on IP issues related to international trade, portfolio management, the Internet, e-commerce, government contracts, antitrust, and unfair competition.
Silver Sponsors: Freescale, Adept Technology
Registration Sponsor: Advanced Motion Controls
Standard Sponsors: Elmo Motion Control, Infranor, Jetta Company Ltd., JETRO, Maxon Precision Motors, MICROMO, MicroStrain, octoScope, OLogic, SICK, Inc., SRI International, Yaskawa America, and Yost Engineering, Inc.
A few sponsorship opportunities are still available. To request information contact Rich Erb at rerb@ehpub.com or 508-663-1500 x331.
For more information and to register to attend visit www.robobusiness.com.
ABOUT ROBOTICS TRENDS
Robotics Trends, a division of EH Publishing Inc., is the world's first integrated media company serving the burgeoning personal, service and mobile robotics marketplace. Robotics Trends serves its audience through two major business divisions:
* Robotics Trends Publishing, which produces Robotics Trends (www.roboticstrends.com), an online news and information site focused on technology trends for people who build, buy, and seek to understand the personal, service, mobile, and military robotics markets; and Robotics Business Review (www.roboticsbusinessreview.com), a subscription media product providing primary research, analysis, business news, and market observations for the robotics and intelligent systems industries; and RoboNexus (www.robonexus.com), an online information site for everyone who loves robots, bringing robot news in a fun, friendly and informative way;
* Robotics Trends Events, which produces the RoboBusiness Leadership Summit (www.robobusiness.com), and the Robotics Trends Summit Virtual Conference Series (www.robovirtualevents.com).
Featured Product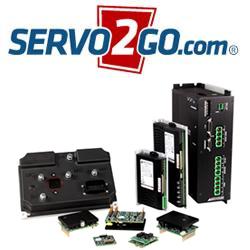 Engineered to drive brushless and brush servomotors in torque, velocity or position mode, Servo2Go.com offers a broad selection of servo drives in a wide range of input voltages and output power levels.