AMT's Safety and Risk Assessment Expert Introduces New ANIS RIA R15.06 Robot System Safety Standard at Industry Conference
Orion, Michigan - Oct 5, 2011 - Applied Manufacturing Technologies (AMT), a leading supplier of factory automation design, engineering and process consulting services today announced its Director of Safety Consulting Services, Roberta Nelson Shea, opened the 2011 National Robot Safety Conference by introducing the draft of the new ANSI RIA R15.06 Robot System Safety Standard. The new standard is a national adoption of the ISO standards for robots and their system implementation (ISO 10218-1 and -2). The new draft ANSI RIA standard is being developed cooperatively with CSA, so that the final product will include the ISO, CSA, and ANSI requirements - all in one package.

"The new draft adds user requirements to the ISO standards, as the ISO standards only address suppliers," said Nelson Shea, director of safety consulting services for Applied Manufacturing Technologies. "It is exciting to see that robotics is expanding to industries outside the traditional automotive applications."
In addition to introducing the new standard at the conference, Ms. Nelson Shea conducted a workshop on "Evaluating Robot System Design" that was attended by over 40 people. Attendees received help in understanding and applying safety concepts for robotic, automated, and integrated manufacturing systems. The workshop featured discussions on requirements from USA, CSA and ISO machinery safety standards. "I have taken away so many questions and ideas to review and change in my system. It has been a very valuable experience," commented one attendee.
Founded in 1989, Applied Manufacturing Technologies (AMT) is a leading supplier of complete consulting and engineering services, offering single-source engineering solutions to the automation and manufacturing industries. The company's service offerings range from design and simulation to programming, installation and support of industrial automation solutions. The company's technical and industry expertise in automation for the automotive, aerospace, medical, heavy equipment and consumer products industries offers its customers the highest quality professional service available in the industrial arena. For more information contact Applied Manufacturing Technologies at 248-409-2000, or online at www.appliedmfg.com.
Featured Product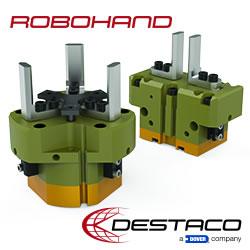 Destaco's Robohand RDH/RTH Series 2 and 3 jaw parallel grippers have a shielded design that deflects chips and other particulate for a more reliable, repeatable operation in part gripping applications ranging from the small and lightweight, to the large and heavy. RDH Series of Rugged, Multi-Purpose Parallel Grippers for Heavy Parts - Designed for high particulate application environments, automotive engine block, gantry systems, and ideal for heavy part gripping The series includes eight sizes for small lightweight to large/heavy part gripping. RTH Series of Powerful, Multi-Purpose Parallel Grippers for Heavy Parts - Designed for large round shaped parts, automotive engine block and gantry systems, and heavy part gripping. They're available in eight sizes for small lightweight to large and heavy part gripping.