New Software's Ready-to-Run Vibration Logger Simplifies MCM, NVH and Audio Test Development
AUSTIN, Texas, Oct. 17, 2011 /PRNewswire/ -- National Instruments (Nasdaq: NATI) today announced the latest version of its NI Sound and Vibration Measurement Suite software, which provides a comprehensive collection of analysis and signal processing tools for noise, vibration and harshness (NVH) testing, machine condition monitoring (MCM) and audio test applications. Engineers can use the suite as stand-alone software or combine it with NI hardware and NI LabVIEW system design software to greatly simplify test system development and control. With its new vibration data-logging functionality and other enhancements, the Sound and Vibration Measurement Suite 2011 helps engineers to more easily customize and automate any MCM or NVH test or monitoring application.

"The NI Sound and Vibration Measurement Suite is an integral part of our MCM applications," said Professor Jay Lee, director of the National Science Foundation's Industry/University Cooperative Research Center for Intelligent Maintenance Systems at the University of Cincinnati. "The suite has tremendously reduced system development time and has helped us achieve a variety of efficiencies throughout our machine analysis process."
The Sound and Vibration Measurement Suite 2011 greatly simplifies the development of MCM, NVH and audio measurement systems with several new features, including a ready-to-run data-logging virtual instrument that makes it possible for engineers to save data continuously or based on specific criteria such as triggers or time. Engineers can easily configure the data logger and run it as long as necessary for a variety of sensor types including accelerometer, tachometer and proximity probes. The measurement suite also includes the Sound and Vibration Assistant, a stand-alone software module for quickly acquiring, analyzing and logging acoustic, noise and vibration data. Additionally, the Sound and Vibration Measurement Suite provides new, easy-to-use application examples for impact test and swept sine analysis. These enhancements for the 2011 version add superior flexibility and high-performance capabilities to a variety of sound and vibration measurement projects.
By integrating with LabVIEW, the Sound and Vibration Measurement Suite 2011 helps engineers increase test throughput with advanced parallel processing capabilities, among many other advantages of LabVIEW. LabVIEW 2011 can dramatically increase development efficiency through new engineering-specific libraries and its ability to interact with almost any hardware device. Together, LabVIEW and the Sound and Vibration Measurement Suite 2011 help engineers integrate individual measurement types into a single, reconfigurable platform so they can do their jobs faster, better and at a lower cost.
Readers can learn more about the Sound and Vibration Measurement Suite 2011 by visiting www.ni.com/soundandvibration.
About National Instruments
National Instruments (www.ni.com) is transforming the way engineers and scientists design, prototype and deploy systems for measurement, automation and embedded applications. NI empowers customers with off-the-shelf software such as NI LabVIEW and modular cost-effective hardware, and sells to a broad base of more than 30,000 different companies worldwide, with its largest customer representing approximately 4 percent of revenue in 2010 and no one industry representing more than 15 percent of revenue. Headquartered in Austin, Texas, NI has approximately 6,100 employees and direct operations in more than 40 countries. For the past 12 years, FORTUNE magazine has named NI one of the 100 best companies to work for in America. Readers can obtain investment information from the company's investor relations department by calling (512) 683-5090, emailing nati@ni.com or visiting www.ni.com/nati.
Featured Product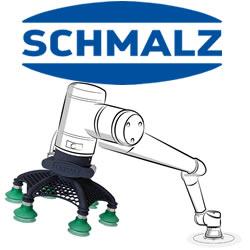 In order to interact with their environment and perform the tasks, lightweight robots, like all industrial robots, depend on tools - and in many cases these are vacuum grippers. These form the interface to the workpiece and are therefore a decisive part of the overall system. With their help, the robots can pick up, move, position, process, sort, stack and deposit a wide variety of goods and components. Vacuum gripping systems allow particularly gentle handling of workpieces, a compact and space-saving system design and gripping from above. Precisely because the object does not have to be gripped, the vacuum suction cupenables gapless positioning next to each other.