Membership strengthens company's position in the packaging industry; extends platform to provide value-added services
UXBRIDGE, MA - DECEMBER 27, 2011 - Lenze Americas, a leading global manufacturer of electrical and mechanical drives, motion control and automation technologies, announces that they were recently voted in as Supplier Members of Packaging Machinery Manufacturers Institute (PMMI). PMMI is a trade association with more than 600 members that manufacture packaging, processing and related converting machinery, commercially-available packaging machinery components, containers and materials in the United States and Canada.

PMMI members are globally renowned for making the highest quality equipment and offering responsive service. The trade association's mission is to improve and promote their members' abilities to meet the needs of their customers.
"As Lenze continues to grow our business in the packaging industry, we see great benefit in joining PMMI, said Tom Jensen, OEM Business Development, Lenze Americas. "PMMI allows us to utilize valuable packaging resources to help us continue providing unique solutions for the industrial and commercial packaging industry."
Lenze Americas' products are utilized in a multitude of packaging applications, including: shrink wrapping plus form-fit-seal, foil pouch filling and labeling machines. Customers include Extreme Packaging, Multi-Pak and SA Power (Nederburg Vineyard). Lenze Americas has been servicing the packaging industry since its first AC drives were produced in 1983.
About Lenze Americas
Lenze is a global manufacturer of electrical and mechanical drives, motion control and automation technology. Our products can be found in many industries, including automotive, packaging, material handling and logistics, robotics, and commercial equipment (pumps/fans). A global network of distributors and representatives makes Lenze Americas perfectly positioned to meet the motion control needs of customers worldwide. Lenze Americas, the American subsidiary of Lenze SE of Germany, is headquartered in Uxbridge, Massachusetts; corporate global headquarters are in Hamelin, Germany. Lenze Americas can be found online at http://www.lenzeamericas.com/
Featured Product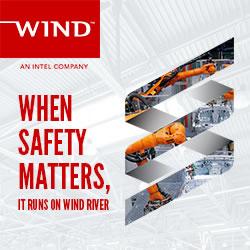 When it comes to ensuring the development of can't-fail systems, Wind River® is a leader with a proven track record of success. With more than 30 years of experience in embedded software and a portfolio of products deployed across more than 2 billion devices, Wind River delivers safety and security when it counts most. From industrial automation to automotive systems, as well as in healthcare devices, railway operations, and throughout the aerospace and defense sector, Wind River has extensive expertise providing built-in safety for complex, connected, safety-critical systems.