RE2 Selected by the U.S. Army to Create a Dual-Arm Manipulation System to Improve EOD Robot Capabilities
PITTSBURGH, PA--(Marketwire - Jan 3, 2012) - RE2, Inc. announced today that it has been competitively selected to develop a two-arm Highly Dexterous Manipulation System (HDMS) for the U.S. Army's Armament Research, Development and Engineering Center (ARDEC) under a Phase II Army Small Business Innovation Research (SBIR) competitive contract.

Robotic systems for explosive ordnance disposal (EOD) currently include a single manipulator to perform critical tasks such as inspection, detection, and neutralization of explosive devices. These manipulators are often limited in their dexterity, reach and lifting capacity. The goal of the dual-arm HDMS technology is to provide the robot operator with capabilities that far exceed currently fielded single-manipulator robots. These capabilities include inspection in tight and cluttered spaces, manipulating wires, opening bags or packages, unscrewing lids on containers, and other abilities to provide access and information while operating at a safe distance.
"The direct benefit of the HDMS technology to Army personnel is significantly increased performance and capability over currently fielded manipulators for both teleoperated and semi-autonomous use on small unmanned ground vehicles (UGVs)," stated Jorgen Pedersen, president and CEO of RE2. "These manipulation improvements directly correlate to a reduction in time-on-target and overall mission time, resulting in increased safety of all mission personnel."
RE2's core area of expertise is intelligent mobile manipulation. RE2 has prime contracts with various branches and organizations of the U.S. military (i.e. Navy, Army, Air Force, and DARPA) to develop advanced manipulation systems that interoperate with both existing and future robotic platforms. RE2 specializes in innovating manipulators, end-effectors, and manipulation control systems. RE2 has a successful track record of transferring and transitioning those innovations to the field as products.
"We have spent the past decade honing our research and development efforts to ensure that we are constantly advancing the state of the art of robotic manipulator capabilities," stated Dr. Patrick Rowe, vice president of R&D at RE2. "This opportunity to develop, test, and fabricate a dual-arm HDMS is extremely exciting for our team as we push the envelope of manipulation and intuitive control systems."
About RE2, Inc.
RE2 is a leading developer of Intelligent Modular Manipulation Systems. RE2's mission is to advance the state of the art of mobile manipulation. RE2's development efforts are focused on creating plug-n-play manipulation systems and end-effectors that are interoperable with existing and next-generation robotic platforms. RE2's products include the RE2 Family of Manipulators, RE2 Family of Quick Releases, ForeRunner UGV, and Robotics Engineering Services. For more information, please visit www.resquared.com or call 412.681.6382.
Featured Product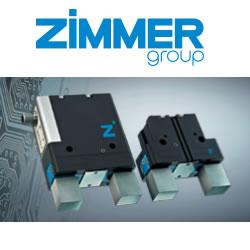 IO-Link is the first standardized IO technology worldwide for communication from the control system to the lowest level of automation.