New Hardware Options and Software Upgrades Facilitate More Powerful Applications
KIRKLAND, Wash., Jan. 10, 2012 /PRNewswire via COMTEX/ -- CoroWare, Inc. (COWI.OB), today announced new software upgrades and hardware options for the CoroBot® Classic and CoroBot Explorer product lines. These new capabilities give researchers, educators and engineers the ability to rapidly develop more powerful autonomous unmanned ground vehicle (UGV) applications.

The software upgrades include full Robotic Operating System (ROS) compatibility and an improved teleoperation application. ROS is an open source framework for creating robotic applications, and is rapidly becoming an industry standard. All of CoroWare's mobile robots are designed to be fully ROS compatible. Out of the box, the CoroBot product line features a teleoperation application that allows users to remotely pilot the robot and view output from the cameras and sensors, whether over a private network or over the Internet.
"Our customers are looking for platforms that take advantage of open platforms such as ROS," said Andrew Zager, robotics product marketing engineer at CoroWare. "In addition to the applications developed by CoroWare, researchers and educators have access to a extensive catalog of open source robotic applications such as mapping, image recognition and navigation."
CoroWare is also offering new hardware options to enhance the abilities of the CoroBot product line. Customers can now add a Microsoft Kinect® to any CoroBot either pre-installed with ROS or upgraded to support ROS. Microsoft Kinect gives users infrared imaging and depth perception to create real-time three dimensional maps. In addition, the stock CoroBot camera has been upgraded to support 1080p full HD video quality.
With the needs of field researchers in mind, CoroWare is also offering customers the option of ordering Lithium Ferrous Phosphate (LiFePO4) batteries. These higher performance batteries offer higher power density and faster charge rates than typical unmanned vehicle batteries.
These new CoroBot product line upgrades and options are available today. The CoroBot product line includes a one year factory warranty at no additional charge. Customers have the option of purchasing extended warranty and premium support plans. Customers should contact a CoroWare account representative or authorized reseller for corporate and educational pricing details.
For questions about CoroWare's mobile robot product line, please visit our website at http://robotics.coroware.com ; or contact us at sales@coroware.com or 1-800-641-2676, option 1.
About CoroWare
Headquartered in Kirkland, Washington, CoroWare is a solutions integrator with expertise in open mobile robotics platforms, business class HD video conferencing, and business intelligence. For more information on CoroWare's products and services, please visit www.coroware.com .
Featured Product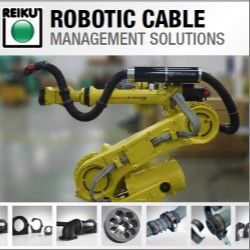 REIKU's Cable Saver™ Solution eliminates downtime, loss of revenue, expensive cable and hose replacement costs, maintenance labour costs. It's available in three sizes 36, 52 and 70 mm. All of the robots cables and hoses are protected when routed through the Cable Saver™ corrugated tubing. The Cable Saver™ uses a spring retraction system housed inside the Energy Tube™ to keep this service loop out of harms way in safe location at the rear of the Robot when not required. The Cable Saver™ is a COMPLETE solution for any make or model of robot. It installs quickly-on either side of the robot and has been tested to resist over 15 million repetitive cycles.