It's also ideal for high-speed, high-velocity, medium-duty pick-and-place applications, painting and other related activities.
DALLAS, TEXAS - Feb. 16, 2011 - MultiCam® Inc., a global CNC cutting system manufacturer, designed its Robot Slider for the rough environment of robotic welding. It's also ideal for high-speed, high-velocity, medium-duty pick-and-place applications, painting and other related activities.

At 14 inches tall along the track, the sleek, low-profile system is easy to step across. The robot track features a 35-mm precision linear guide rail. Its precision-ground helical rack can support multiple trolleys up to 2 meters in length and equipment weighing up to 10,000 pounds.
MultiCam used state-of-the-art 3-D modeling software to design the Robot Slider and tested it with Finite Element Analysis (FEA) before releasing it to production. The frame is a stress-relieved, precision-machined weldment featuring only the best components. MultiCam assembles it with a hypoid beveled-gear precision planetary gearbox, automatic lubrication, integrated over-travel-limit switches, integrated lifting eyes, heavy-duty mechanical hard safety stops and leveling feet that anchor to the floor easily.
Optional tread plate covers protect precision components from splatter during welding operations. Modular design allows for extended lengths. The Robot Slider is available with quiet e-chain or conduit rail (bus bar) connectivity to extend the robot track by 1-meter increments. Inner dimensions are 9.84 inches wide by 2.2 inches high.
The MultiCam Robot Slider offers a new level of functionality and affordability.
About MultiCam - Since 1989, MultiCam Inc. has manufactured thousands of CNC (computer numerical control) cutting solutions for various industries around the world. The innovative company integrates advanced technology and value in highly productive systems that are easy to use and built to last. MultiCam manufactures CNC router, laser, plasma, waterjet and knife cutting machines at its 135,000-square-foot facility in North Texas. The global network of experts includes 70 MultiCam Technology Centers worldwide with 20 across North America. To learn more about MultiCam's CNC cutting solutions, visit www.multicam.com, email sales@multicam.com or call (972) 929-4070.
Featured Product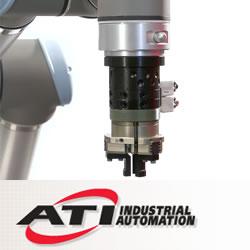 ATI Industrial Automation's MC-10 Manual Tool Changer provides a cost-effective solution for quickly changing tools by hand. Its compact yet robust design is optimized for collaborative robot applications. The ergonomic twist-collar locking mechanism ensures a secure attachment of the tool and easy manual operation with tactile feedback. This Manual Tool Changer can carry payloads of up to 22 lbs and includes multiple fail-safe features that resist vibration and prevent loosening. The MC-10 Manual Tool Changer has integrated air pass-through connections and options to connect electrical utilities if needed. ATI will feature the new MC-10 along with a variety of other robotic demonstrations and product displays at this year's IMTS show in Chicago (Booth #236417).