Australia's top conveyor provider, RobotUnits has created a new ID labeling and identification system which features a unique serial number for reference, to better cater to their customers' conveyors' maintenance needs.
Victoria, Australia March 20, 2012

RobotUnits Australia has recently introduced a new ID labeling system to give each built conveyor design a unique serial number that the customers can refer to in case the they would ever need spare parts for the conveyors they have purchased from the company. All they have to do is call the company's customer service line and quote the unique serial number provided for every product from RobotUnits.
"Replacement parts can be shipped straight away eliminating long delays trying to figure out what is needed. We identified a need for this in the market a long time back and have implemented a serial number system a few years back. We have now updated the ID labels to also show information regarding the type of conveyor, basic measurements, motor configuration, project number and build date. All those identifiers help us to clearly identify which replacement parts the customer is after," claims Jurgen Mennel of RobotUnits Australia. This is a clear reflection of how committed the company is in keeping their customers satisfied with their dealing with RobotUnits. The new identification labeling system makes it so much easier for customers to get the replacement parts for their conveyors so as not to delay work operations.
Though it is not really likely that that a conveyor from RobotUnits would just break down but certainly over time, there would be parts that will require replacements. "We therefore recommend that the main wear parts like timing belts are kept in stock and maintenance personnel has them on hand," states Mennel. Reordering new parts is made very easy with the new ID labeling system so even before conveyor parts start to compromise the performance of the machine, companies can already call RobotUnits and make the purchase for the appropriate replacement parts. It is also worth noting that each conveyor is now delivered with a printed manual which has all the operating procedures as well as maintenance schedules so basically customers will be equipped with maintenance techniques to make sure the machine will work perfectly and they can also anticipate when some parts would be likely to give out and need to be replaced.
Customers can count that all conveyor belts and systems from RobotUnits are CE compliant which is evident on the ID label as well as in the manual. RobotUnits is again ahead of the competition that's why making an investment in their system is always a big win for the customers.
Featured Product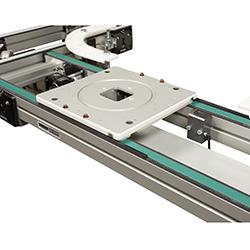 Dorner's 2200 Series Precision Move Pallet Systems are ideal for assembly automation. With features such as an innovative timing belt conveyor design and industry best pallet transfers, they get your product to the exact location, at the exact time and in the exact position it needs to be. They are now available with new options such as heavy load corner modules with 150 lb. capacity and 180 degree tight transfer corners for compact loops.