South Carolina hospital automates laboratory transport with Swisslog RoboCourier™ autonomous mobile robot
Denver, Colo. May 17, 2012

Rosie is the kind of helper every hospital laboratory seeks. Always agreeable, never taking coffee breaks or chatting with fellow workers, Rosie works up to 24-hours per day delivering specimens to testing cells at the Self Regional Healthcare central lab in Greenwood, S.C.
Rosie, affectionately named by Self Regional staff, is a RoboCourier™ autonomous mobile robot from Swisslog, a leading provider of automated materials transport and medication management solutions for hospitals.
In operation since June 2011, Rosie the RoboCourier is tasked with transporting specimens from the lab's receiving desk to five testing areas located in rooms separated by narrow hallways.
According to Laboratory Manager Randy Litzenberger, Rosie has provided consistency and improvements in turnaround time. "Before the robot, we were trying to get 75% of specimens from collection to reporting within 75 minutes," he explained. "After we installed the robot in combination with other automation, we saw collection to reporting times drop to 50 minutes 90% of the time." Before RoboCourier, staff members were walking an equivalent of seven miles per day delivering specimens.
RoboCourier contributes to lean process improvements by increasing efficiency, maximizing operations and improving flow. RoboCourier features human-like voice commands that notify staff of its presence. Laser guidance assures avoidance of people and objects.
Additionally, RoboCourier can interface with automatic doors along its route. The robot can operate 24 hours per day between battery recharging. It requires no facility modifications during installation, and its route can be quickly mapped and modified.
"RoboCourier's benefit is tremendous where a lab strives to achieve turnaround consistency, where people move specimens that could be handled by a robot," Litzenberger added. "The robot is a silent partner helping staff members get their work done."
Swisslog Healthcare Solutions is the leading supplier of logistics automation solutions for healthcare facilities. Swisslog has installed automated materials transport and medication management solutions in more than 3,000 hospitals around the world, including more than 2,000 in North America. Swisslog offers total systems design, manufacturing, installation and customer support providing a complete supply chain management approach to the logistics challenges of hospitals. The North American division of Swisslog Healthcare Solutions is based in Denver, Colo.
About Self Regional Healthcare
Self Regional Healthcare began when industrialist James C. Self built Self Memorial Hospital and donated it to Greenwood County, S.C. in 1951. At that time, the hospital was among the most progressive in the country. The mission then was to provide a healthcare facility convenient to residents, reducing travel distance for treatment and visitation.
Today, Self Regional is a major referral and medical center that provides advanced healthcare services to a population of more than a quarter million people. Self's mission is to improve health by bringing advanced care closer to home.
About Swisslog
Swisslog is a global provider of integrated logistics solutions for warehouses, distribution centers and hospitals. Its comprehensive services portfolio ranges from building complex warehouses and distribution centers to implementing Swisslog's own software to intra-company logistics solutions for hospitals.
Swisslog's solutions optimize customers' production, logistics and distribution processes in order to increase flexibility, responsiveness and quality of service while minimizing logistics costs. With years of experience in the development and implementation of integrated logistics solutions, Swisslog provides the expertise that customers in more than 50 countries rely on.
Featured Product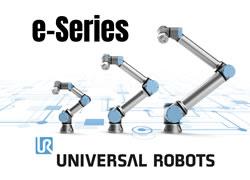 With the new e-Series cobot line, Universal Robots raises the bar for cobots, adding unique new features while significantly strengthening the four core principles defining collaborative robots: fast set-up, easy programming, flexible deployment, and safe operation. With a new built-in, tool-centric Force/Torque sensor the e-Series is ready to take on applications requiring force control right out of the box. A repeatability of 30 micron means the new cobots are suitable for very precise finishing, assembly and electronics tasks. A re-designed user interface decreases cognitive load and expedites program development, while a new externally accessible, 500Hz system bus enables more complex motion control algorithms or profiles.