ACAD Pte Ltd, the distributor of GstarCAD in Singapore attended BuildTechAsia2012 from May 15th to 17th, 2012 and achieved great success.
Beijing, China: May 22, 2012-- ACAD PTE LTD, the distributor of GstarCAD in Singapore attended BuildTechAsia2012 from May 15th to 17th, 2012 and achieved great success.

BuildTechAsia2012 stands as a premier platform for exhibitors and visitors to network with government officials and industry players in the region. It presents the latest technologies across varied segments of the building and construction industry--from the latest in IT and Building Information Modeling (BIM) concepts to the newest machines, building materials, and electrical and mechanical engineering processes.
During this three-day event, ACAD PTE LTD introduced GstarCAD Architecture to visitors through live demo and received high praise. Numerous visitors came to the booth of GstarCAD and fascinated by the features of GstarCAD software. Many of them requested the product brochures and left their contacts for future cooperation. It's a great opportunity for ACAD PTE LTD and the visitors to communicate face to face. Visitors know more about GstarCAD through the detailed explaination and demonstration of ACAD PTE LTD.
Louis, visitors from Singapore says, "Nice features and cost effectiveness of GstarCAD really impress me!" "Good performance and compatibility also other attract us," Carson, another visitor adds.
All visitors' interest and support are well appreciated by GstarCAD. In future exhibitions, GstarCAD will continue to make great efforts to bring more surprises to visitors.
About GstarCAD
GstarCAD is fast, powerful, .dwg-compatible CAD software for the AEC, mechanical, manufacturing, electrical, GIS, survey and mapping industries. The world-class 2D/3D CAD software platform is based on IntelliCAD technology.
GstarCAD's powerful functions, .dwg compatibility, and programming platform, are built on a cost-effective solution with an easy to user interface. Gstarsoft ensures that your design inspiration comes true.
Featured Product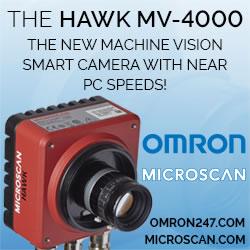 Awe-inspiring power and superior flexibility is sheathed within the contoured casing of the HAWK MV-4000. This smart camera builds upon the previous generation by quadrupling processing power and achieving real-time trigger response using an FPGA. Its state-of-the-art algorithms make it an excellent tool for any industry, whether the requirement be code reading, code verification, inspection, guidance, gauging or a combination of all four.