The emerging robotics company is exploring new opportunities to shorten the development timeline for some of the world's most astounding robotics advances
May 21, 2012

HOUSTON--Promising new robotics innovations may be poised to improve our lives forever, but many breakthroughs are still years away from commercial availability. Quantum International Corp. (OTCBB:QUAN) is working to change that. The emerging robotics company is exploring new opportunities to shorten the development timeline for some of the world's most astounding robotics advances.
Last week, The Wall Street Journal detailed a new collaboration between researchers at Brown, the Department of Veterans Affairs, Massachusetts General Hospital, Harvard Medical School and the German Aerospace Center that allowed two paralyzed patients to use their thoughts to direct a robotic arm to grasp objects. This incredible advance in the quest to restore some function to people with paralyzed limbs remains years from practical use for people with paralysis or limb loss.
Quantum International aims to help cut the development time between laboratory breakthrough like the one profiled in the Journal to product commercialization. The executive leadership at QUAN has the experience necessary to develop ideas and patents conceived in university labs into new, independent enterprises.
"The technology is already here-we've just got to get it to the marketplace," said QUAN CEO Robert Federowicz. "We're targeting early-stage innovators and research groups with new innovations ready for commercialization and pursuing joint ventures and other deals that would allow us to fund or secure financing for products that could change the face of medicine in the 21st Century.
"This way, Quantum International can deliver powerful robotics innovations to a hungry marketplace while delivering value to our shareholders," he said.
QUAN plans to announce its initial business targets in the red-hot robotics space soon. For more information on Quantum International's robotics initiatives, please visit http://www.quantuminternationalcorp.com/investors.html.
Quantum International Corp. is working to develop the next generation of robotics technology to compete in a booming global industry alongside Hansen Medical, Inc. (NASDAQ: HNSN), MAKO Surgical Corp. (NASDAQ: MAKO), Covidien (NYSE: COV) and Accuray Incorporated (NASDAQ: ARAY).
About QUAN International Corp.
Quantum International Corp. (OTCBB: QUAN) is an emerging robotics innovation company working to commercialize the next generation of sophisticated, automated technology. The Company is positioning itself to develop, deliver and market the most cutting-edge innovations in robotics in order to leverage the worldwide demand for the precision, speed, and cost-effectiveness these technologies offer.
For more information about Quantum International Corp., please visit http://www.quantuminternationalcorp.com.
Featured Product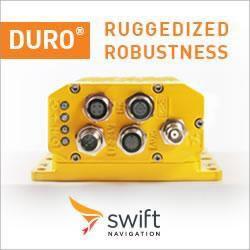 Duro® and Duro Inertial are enclosed dual-frequency RTK GNSS receivers. Designed and built to survive long-term, outdoor deployments, the easy-to-deploy Duro and Duro Inertial combine centimeter-accurate positioning with military ruggedness at a breakthrough price. Duro Inertial features an integrated IMU for continuous centimeter-accurate positioning in the harshest of outdoor deployments.