Swedish Army adopts "Family of Systems" approach with AeroVironment small unmanned aircraft systems (UAS)
AeroVironment (NASDAQ: AVAV) has received a firm fixed-price order for 12 hybrid small unmanned aircraft systems (UAS) from the Swedish Defence Materiel Administration (Försvarets Materielverk) on behalf of the Swedish Army. The order consists of Puma AE™ and Wasp™ air vehicles, ground stations, training, and logistics support. The order is the result of a competitive evaluation and procurement process. Contract options could increase the procurement to a total of 30 systems.

Demonstrating the family of systems concept, the Swedish deployment will include AeroVironment Puma AE™ and Wasp™ UAS to provide intelligence, surveillance and reconnaissance capabilities in support of a wide variety of missions. AeroVironment's portable, common ground control system operates the unmanned systems, thereby minimizing logistics and equipment.
"AeroVironment's family of small unmanned aircraft systems gives our customers the flexibility to select the right UAS for specific mission assignments or to use two or three different small UAS for different purposes on the same mission," said Roy Minson, AeroVironment senior vice president and general manager of its Unmanned Aircraft Systems business segment. "Numerous allied armed forces are adopting our small UAS because of their battle-proven force protection and force multiplication benefits to small tactical units."
In addition to Sweden, other international governments that have purchased AeroVironment small UAS include Australia, the Czech Republic, Denmark, Estonia, France, Italy, Lebanon, the Netherlands, Norway, Saudi Arabia, Singapore, Spain, Thailand, Uganda, and the United Kingdom.
# # #
About AeroVironment's Small UAS
RQ-11B Raven®, Wasp™, Wasp AE™, RQ-20A Puma™ and Shrike VTOL™ comprise AeroVironment's Family of Small Unmanned Aircraft Systems. Operating with a common ground control system (GCS), this Family of Systems provides increased capability to the warfighter that can give ground commanders the option of selecting the appropriate aircraft based on the type of mission to be performed. This increased capability has the potential to provide significant force protection and force multiplication benefits to small tactical units and security personnel. AeroVironment provides logistics services worldwide to ensure a consistently high level of operational readiness and provides mission services for customers requiring only the information its small UAS produce. AeroVironment has delivered thousands of new and replacement small unmanned air vehicles to customers within the United States and to more than a dozen international governments.
The Qube™ small UAS is tailored to law enforcement, first response and other public safety missions. Small enough to fit easily in the trunk of a car, the Qube system can be unpacked, assembled and ready for flight in less than five minutes, giving the operator a rapidly deployable eye in the sky at a fraction of the cost of manned aircraft and large unmanned aircraft.
About AeroVironment, Inc.
AeroVironment is a technology solutions provider that designs, develops, produces and supports an advanced portfolio of Unmanned Aircraft Systems (UAS) and electric transportation solutions. Agencies of the U.S. Department of Defense and allied military services use the company's electric-powered, hand-launched unmanned aircraft systems extensively to provide situational awareness to tactical operating units through real-time, airborne reconnaissance, surveillance and communication. Multiple government agencies have helped to fund the development and demonstration of Global Observer®, a hybrid-electric, stratospheric UAS designed to provide affordable, persistent reconnaissance and communication over any location on the globe. Switchblade is a loitering munition designed to provide a rapid, lethal, pinpoint precision strike capability with minimal collateral damage. AeroVironment's electric transportation solutions include a comprehensive suite of electric vehicle (EV) charging systems, installation and data services for consumers, automakers, utilities and government agencies, power cycling and test systems for EV developers and industrial electric vehicle charging systems for commercial fleets. More information about AeroVironment is available at www.avinc.com.
Featured Product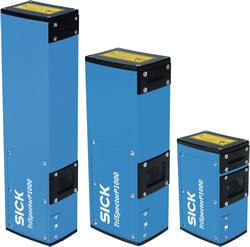 LiDAR (Light Detection and Ranging) is one of the most reliable methods for parts sensing in factory automation today. SICK has made this technology affordable and easy to use! Click on the video link below to learn about the TiM1xx LiDAR sensor and how it provides: - Area scanning LiDAR technology in a standard sensor package - 200-degree field of view and 3 meter sensing range allows for 169 square feet of area scanning - Compact size and light weight enables ease of deployment in "non-standard" type applications, like end-of-arm robotic tooling - Wide area scanning without having to mount a transmitter and receiver makes installation much easier - IO Link for easy configuration