RMT Robotics adds MIBA as an official partner in the sale and promotion of ADAM robots
Grimsby, Ontario, Canada (June 12, 2012) - RMT Robotics® (www.rmtrobotics.com), a Cimcorp Oy company and the manufacturer and integrator of ADAM™ autonomous mobile robot (AMR) (www.adamrobot.com), has entered into a sales representative agreement with MIBA for the promotion and sale of its ADAM mobile robots in Italy.

MIBA, through its eepos Italy division, will work with RMT to promote and sell the AMR solutions to end users throughout Italy and southern Europe with a strategic focus on applications in manufacturing industries such as original equipment (OE) as well as tier 1 and 2 automotive, electronics, plastics and aerospace.
"We are thrilled to work with MIBA, through its eepos Italy division, to bring the ADAM system to manufacturers in southern Europe," said Bill Torrens, director of ADAM Systems Group, RMT Robotics. "Their experience and connections in the Italian industrial marketplace make MIBA an ideal addition to ADAM's growing global network of promotional partners."
"The ADAM AMR system is a unique and innovative solution that has great potential to transform the way materials are transported in Italian factories," said Adolfo Lorenzi, principal, MIBA. "We are eager to work with RMT to introduce ADAM and promote the many benefits to our customers."
ADAM Autonomous Mobile Robots
ADAM is an AMR that independently performs random origin to random destination transport of work-in-process materials and finished goods in lean manufacturing and assembly applications. ADAM is designed to perform missions autonomously, navigating around fixed and moving objects, free of guide wires, reflectors or transponders.
About RMT Robotics
RMT Robotics (www.rmtrobotics.com), a Cimcorp Oy Company, is a global company that manufactures and integrates turnkey robotic gantry-based order fulfillment and tire handling solutions designed to reduce operating costs and streamline operations.
To extend the flexibility of robotics beyond a fixed workspace, RMT Robotics also manufactures and integrates ADAM™, the category-defining autonomous mobile robot. The ADAM system redefines the purpose and function of industrial AGVs by performing intelligent robotic transport of materials in complex, random origin to random destination industrial environments.
Since 1981, RMT Robotics has been recognized around the globe as an innovator in robotics materials handling. RMT helps our customers compete in an increasingly aggressive and price-sensitive global marketplace by providing best-in-class robotic handling solutions.
About MIBA
MIBA (www.mibaexpert.com), the Italian distributor for eepos, has operated in the industrial marketplace for more than 20 years. MIBA offers a number of handling solutions which include the eepos line of manual manipulators and crane systems, reaction arms for tightening stations, manipulators and assemble tooling. The MIBA sales team covers the complete Italian industrial area and is supported by an internal design and integration team.
Featured Product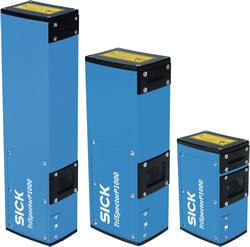 LiDAR (Light Detection and Ranging) is one of the most reliable methods for parts sensing in factory automation today. SICK has made this technology affordable and easy to use! Click on the video link below to learn about the TiM1xx LiDAR sensor and how it provides: - Area scanning LiDAR technology in a standard sensor package - 200-degree field of view and 3 meter sensing range allows for 169 square feet of area scanning - Compact size and light weight enables ease of deployment in "non-standard" type applications, like end-of-arm robotic tooling - Wide area scanning without having to mount a transmitter and receiver makes installation much easier - IO Link for easy configuration