DHS S&T Borders and Maritime Security Division will collaborate with OPT to demonstrate the effectiveness of its long duration maritime vessel detection platform.
Pennington, NJ - September 4, 2012 - Ocean Power Technologies, Inc. (Nasdaq: OPTT) ("OPT" or "the Company") today announced that it has entered into a Cooperative Research and Development Agreement ("CRADA") with the U.S. Department of Homeland Security ("DHS") Science & Technology Directorate ("S&T") to perform a new round of in-ocean tests on its Autonomous PowerBuoy® to further demonstrate its use for ocean surveillance.

Specifically, the DHS S&T Borders and Maritime Security Division will collaborate with OPT to demonstrate the effectiveness of its long duration maritime vessel detection platform. This will involve the redeployment of an APB-350 Autonomous PowerBuoy off the coast of New Jersey, where previous work through the U.S. Navy's Littoral Expeditionary Autonomous PowerBuoy ("LEAP") program last year produced extremely positive results, including higher-than-predicted power harvesting capability and survivability during Hurricane Irene and its 50-foot high waves.
In tandem with the CRADA, OPT has been awarded a new $75,000 grant from the Maryland Technology Development Corporation ("MTDC") via a joint technology transfer initiative to show how the Autonomous PowerBuoy can be used with multiple surveillance technologies. OPT will leverage its experience from the LEAP program in surface vessel detection to demonstrate an enhanced tracking technology covering a wider variety of vessels. This technology will feature an acoustic sensor system in addition to the existing HF RADAR. This will allow the PowerBuoy to collect data for ocean observing applications at the same time as it performs its enhanced surveillance duties, demonstrating the dual use of the PowerBuoy technology.
"Building on our success in 2011 with the LEAP deployment, we are pleased to be implementing this advanced maritime security payload on our Autonomous PowerBuoy" said Charles F. Dunleavy, Chief Executive Officer of OPT. "The CRADA and the grant from the MTDC will assist us in the expansion of the Autonomous PowerBuoy capability for vessel detection operations, which is one of the significant potential markets for this product. We look forward to deploying the upgraded device."
Autonomous PowerBuoys form an important part of OPT's commercial product offering, and have been designed to generate power for off-grid applications such as offshore oil & gas installations, fish-farming as well as security and maritime monitoring. In February 2012, OPT reported results of the LEAP program under which its device supplied continuous power in excess of 400W throughout the entire deployment and produced peak sustained electrical power of 1,500W, easily exceeding the critical design goals.
About Ocean Power Technologies
Ocean Power Technologies, Inc. (Nasdaq: OPTT) is a pioneer in wave-energy technology that harnesses ocean wave resources to generate reliable and clean and environmentally-beneficial electricity. OPT has a strong track record in the advancement of wave energy and participates in an estimated $150 billion annual power generation equipment market. OPT's proprietary PowerBuoy® system is based on modular, ocean-going buoys that capture and convert predictable wave energy into clean electricity. The Company is widely recognized as a leading developer of on-grid and autonomous wave-energy generation systems, benefiting from 15 years of in-ocean experience. OPT is headquartered in Pennington, New Jersey, USA with an office in Warwick, UK, and operations in Melbourne and Perth, Australia. More information can be found at www.oceanpowertechnologies.com.
Featured Product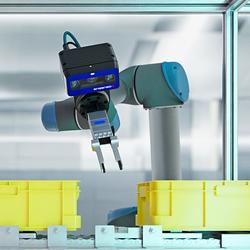 Combining the ease of use of a webcam with the performance and reliability of an industrial camera? The uEye XC autofocus camera from IDS Imaging Development Systems proves that this is possible. Its high-resolution imaging, simple setup and adaptability make it an invaluable tool for improving quality control and streamlining workflows in industrial settings - especially for cases where users would normally employ a webcam. The uEye XC autofocus camera features a 13 MP onsemi sensor and supports two different protocols: USB3 Vision, which enables programmability and customization, and UVC (USB Video Class). The UVC functionality enables a single cable connection for easy setup and commissioning, while delivering high-resolution images and video. This makes the uEye XC camera an ideal option for applications that require quick setup and need to manage variable object distances. Additional features such as digital zoom, automatic white balance and color correction ensure precise detail capture, which is essential for quality control.