QC-001 Provides Flexibility To Extremely Light Payload Robots
ATI Industrial Automation has developed a new Robotic Tool Changer for extremely light payloads. The QC-001 model Tool Changer features an extremely compact and lightweight design for high-speed "spider" or delta robots. This new Tool Changer enhances the flexibility of these robots by enabling them to switch end-effectors automatically. Multiple assembly, dispensing, sorting, and material handling operations can be performed by one robot, greatly increasing productivity, while reducing downtime for change-overs. The QC-001 Tool Changer also features integrated pneumatic ports and electrical connections.

Product Features and Options:
Payload: 2.2 lb (1 kg).
Weight (when coupled): 0.12 lb (0.055 kg).
Stack Height (when coupled): 0.67 in (17 mm).
Electrical Pass-throughs: 6-pins @ 3 Amp/50VAC.
Pneumatic Pass-through Ports (qty): (4) M5.
ATI offers a wide selection of Tool Changer models to cover a variety of applications. Key features include: Excellent repeatability, high rigidity, and a lightweight and compact design. With over 20 years of robotic end-effector innovation, ATI's engineering department, the largest of its kind for a robotic tooling company, is focused on developing cost-effective, state-of-the-art products and solutions.
About ATI Industrial Automation:
ATI Industrial Automation is the leading engineering-based world developer of robotic accessories and robot arm tooling, including Automatic Tool Changers, Multi-Axis Force/Torque Sensing Systems, Utility Couplers, Robotic Deburring Tools, Robotic Collision Sensors, Rotary Joints, and Compliance Devices. Our robot end-effector products are found in thousands of successful applications around the world.
Featured Product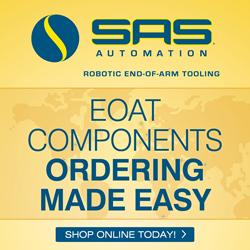 SAS Automation's complete line of modular components allows you to rapidly build your end-of-arm tools in your own plant, meeting your ever-changing automation needs on-demand. And with our newly enhanced Online Shopping Cart, it's never been easier! IT'S SHOPPING MADE SIMPLE, with features like: • Responsive Design so you can access anytime -- desktop, tablet or phone -- with ease • CAD Model Access with 3D Software Integration • Order History • Saved Quotes • Tool Builder • Product Comparisons • Enhanced Search • Social Media Sharing • Product Reviews