Diamond Flex-Hone and NamPower Abrasive Nylon Brushes Showcased
Los Angeles, CA September 26, 2012

The attendees at the 29th annual International Manufacturing Technology Show in Chicago September 10-15, 2012 were among the first to see and test the latest product offerings from Brush Research Manufacturing (BRM) including the company's new NamPower™ abrasive nylon brush and Diamond Flex-Hone lines.
According to Mike Miller, spokesperson for BRM, the response has been overwhelmingly positive, with hundreds of visitors learning about the advantages of the company's latest products on the market. With more than 100,000 visitors from over 119 countries and over 1,900 exhibitors, the (IMTS) is one of the world's largest events of its kind in America.
"It has been a tremendous show and despite what you may hear on the news, American manufacturing is alive and well," says Mike Miller, Vice President for Global Sales at BRM. "The isles have been packed with manufacturing professionals learning about the latest technologies and willing to make the investment required to remain ahead."
The two new product lines showcased at IMTS 2012, the Diamond Flex-Hone and NamPower abrasive nylon brushes, further expand the company's impressive line of honing tools, disc brushes, deburring brushes, automotive brushes, power brushes, and twisted-in-wire brushes.
Diamond Flex-Hone
The Diamond Flex-Hone is used to achieve exceptionally smooth surface finishing of cylindrical parts composed of hard materials such as ceramics, carbide and hardened tool steel.
This honing tool can perform polishing, edge blending and cross-hole deburring of exceptionally hard materials, providing a fast and inexpensive solution to surface finishing operations that were relatively expensive and time consuming in the past.
"Those who visited us at the show had used the Flex-Hone for years and were quite familiar with it, but were unaware that it came in diamond," said Miller. "These were people who were primarily working with harder materials they couldn't finish with a traditionally Flex-Hone, so it opens up a whole new area of materials for BRM."
Using exclusive, self-sharpening diamond crystals laminated to the ends of flexible filaments, the Diamond Flex-Hone is a patented ball-style hone for surface finishing of cylinders from 4mm to 20mm in diameter (custom sizes are also available).
Typical applications include carbide wear parts, guide and drill bushings, ceramic cylinders, heat treated steel, high nickel stainless steel, MMX aluminum alloys, chromed and plated bores, aerospace components and medical parts.
NamPower™ Abrasive Nylon Brushes
BRM's NamPower abrasive disc brushes contain a combination of ceramic and silicon carbide filaments to deliver maximum burr removal rates and ideal surface finish in one operation. These high-performance brushing tools can be integrated with automated machinery, CNC machining centers, transfer lines, and robotic cells.
"The big push at IMTS is to try and automate as much as possible, so this is a process they were interested in,' said Miller. "There were other brushes at the show, but what made ours unique was the combination of filaments of the ceramic and silicon carbide so it has the ability to remove metal as well as produce a good finish at the same time."
The abrasive nylon brush filaments on Brush Research's Nampower Tools work like flexible files, conforming to part contours, wiping and filing across part edges and surfaces.
Applications for the NamPower abrasive nylon brush include the deburring and resurfacing of aluminum auto parts, heat sinks as well as aluminum angles, boxes, cases, tees, and tubing.
Featured Product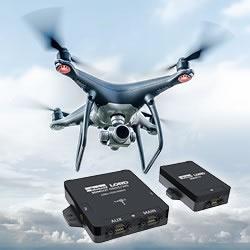 The C-series high performing inertial sensor package provides an OEM form-factor that is optimized for size and weight in Off Highway, Unmanned Ground Vehicles/Mobile Robots and Unmanned Aerial Systems. It's compact and low-profile anodized aluminum housing can be connected directly to a printed circuit board using a UART header or a Samtec FFSD ribbon cable and 2-56 fasteners.