Tiny nanobots capable of entering the human body could be on the verge of revolutionizing medicine.
HOUSTON--As Quantum International Corp. (OTCBB: QUAN) works to deliver the Next Big Thing in medical robotics, the future on the industry may be getting smaller - much smaller.

Tiny nanobots capable of entering the human body could be on the verge of revolutionizing medicine. Carnegie Mellon University, research efforts led by Mettin Sitti are underway to design and manufacture pill-sized, soft capsule robots that can be remote-controlled. This new technology is on the cusp of drastically improving critical diagnostic and therapeutic functions for the gastrointestinal tract and other functions.
Sitti's research could ultimately translate into more successful surgeries and better and faster diagnoses and recoveries for patients. Meanwhile, Quantum is hard at work on medical innovations of its own.
Quantum is close to an agreement with the Industrial Research Institute for Automation and Measurement (PIAP) to assist in the commercialization of the Resuscitator, a small, uniquely designed medical device that has been designed to help emergency responders carry out foolproof CPR techniques.
The sophisticated electronic assistant is designed to ensure that chest compressions, the element of CPR most prone to human error, are administered perfectly by amateurs and professionals alike.
As technology improves, the market for smaller, faster and more affordable medical robotics could skyrocket in the next few years, and QUAN is preparing to capitalize on the coming boom.
Quantum is working to develop the next generation of robotics technology to compete in a booming global industry alongside Intuitive Surgical, Inc. (NasdaqGS: ISRG), iRobot Corporation (NasdaqGS: IRBT) and Dover Corp. (NYSE: DOV).
For more information on Quantum International's robotics initiatives, please visit www.quantuminnovators.com/investors.html.
Featured Product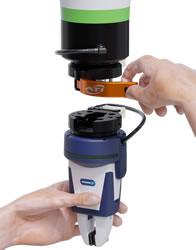 Simpler, stronger, and more precise. ATI Industrial Automation has developed a series of Manual Tool Changers that provides a cost-effective solution for quickly changing tools by hand. They feature a unique design that combines high strength, excellent repeatability, and a patent-pending screw-cam locking mechanism with multiple fail-safe features, which resists vibration and prevents loosening. These robust and compact Manual Tool Changers can handle payloads up to 80 pounds (36 kg) and pass pneumatics and electrical signals.