Leading robotics maker also weighs in on how the cloud makes robots smarter
FRAMINGHAM, MA - OCTOBER 4, 2012 - Robotics Trends Media Group welcomes Bossa Nova Robotics CEO Martin Hitch, who will give the keynote address "Where's my Rosey Jetson?" and founder Sarjoun Skaff, who will discuss cloud robotics, to the RoboBusiness 2012 Leadership Summit taking place October 22-24, 2012 at Pittsburgh Marriott City Center in Pittsburgh, PA (www.robobusiness.com).

Hitch, the CEO of Bossa Nova Robotics ( www.bnrobotics.com), agrees that few robotic icons as powerfully embody the image of a personal home robot as Rosey Jetson, but Hitch is disappointed that fifty years after her screen debut, she's still not a reality. With more than 20 years experience in consumer-facing sales, marketing and business development roles in his native UK and the USA, Hitch leads and executes the business strategies that will achieve Bossa Nova's vision of a robot in every home.
During RoboBusiness 2012 Hitch will explain how the consumer side of robotics is still growing, how the roles economics and customer habits play in the development of the ultimate personal robot and what the robotics industry can do to accelerate personal robot sales and consumer acceptance.
"Our Mission is to develop the leading personal robot for the 21st century consumer..."
Founder, Chief Technology Officer and CMU Robotics Institute graduate, Sarjoun Skaff, will discuss in his session, "How to get your Robotic Head in the Clouds," how cloud services increase the value robots bring to customers in new and powerful ways while reducing the robots' cost.
During his session, taking place on Tuesday, October 23 Skaff will discuss how robot cloud services assist in memory and health management for very low cost systems and pool knowledge from humans and other robots to accelerate machine learning.
Skaff co-founded Bossa Nova Robotics in 2005 to take robots out of the lab and turn them into personal robots for consumers. He is responsible for the company's technology leadership and product development with over 15 years of hands-on experience.
Leadership teams from up-and-coming robot companies, such as Hitch and Skaff of Bossa Nova Robotics, are excited to share their learning experiences with RoboBusiness 2012 attendees to help further build the robotics ecosystem to help make A Robot in Every Home a reality.
For media inquiries, please contact Erin Rapacki at rbls12media@gmail.com.
For sponsorship information, contact Rich Erb at rerb@ehpub.com or 508-663-1500 x331.
For more information and to register to attend visit www.robobusiness.com.
ABOUT ROBOTICS TRENDS MEDIA GROUP
Robotics Trends Media Group is the world's first integrated media company serving the burgeoning personal, service and mobile robotics marketplace: Robotics Trends Publishing ( www.roboticstrends.com), Robotics Business Review (www.roboticsbusinessreview.com); and Robotics Trends Events, which produces the RoboBusiness Leadership Summit ( www.robobusiness.com), and the virtual conferences (www.robovirtualevents.com)
Featured Product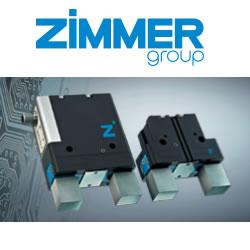 IO-Link is the first standardized IO technology worldwide for communication from the control system to the lowest level of automation.