Quantum is already working to leverage demand for powerful new medical technologies.
HOUSTON--As Quantum International Corp. (OTCBB: QUAN) works to develop and commercialize game-changing robotics innovations, a startling new breed of robot could hold the key to rebuilding the world's coral reefs: the swarm.

Around the world, reefs are at risk from a commercial fishing technique known as bottom trawling, which regularly damages coral. The solution to keeping reefs and their surrounding ecosystems teeming with fish could be swarms of small, autonomous coral-fixing robots.
When trawling nets encounter coral reefs, they break off coral branches. If these branches are found reasonably quickly and cemented back onto the reef, they will resume growing. Today, this work is done mostly by volunteer scuba divers. Nanobots could handle the job much more quickly, working cooperatively like swarming insects such as bees or wasps to retrieve broken pieces of coral and reattach them.
There are crucial advantages to this swarm approach. Because any individual robot is not crucial to the project by itself, it doesn't need to be built too rugged or sophisticated. When a single nanobot gets damaged, the other coral-bots could simply adapt to take on their workload.
"The swarm approach could potentially be applied profitably to all manner of tasks, from reef repair to health care," said Quantum CEO Robert Federowicz. "Smaller versions of the same technology could soon be fighting cancer inside the body. The possibilities are nearly limitless for this new technology, which translates to incredible market potential."
Quantum is already working to leverage demand for powerful new medical technologies. The company is close to an agreement with Poland's Industrial Research Institute for Automation and Measurement (PIAP) to assist in the commercialization of the Resuscitator, a portable device designed to ensure that chest compressions, the element of CPR most prone to human error, can be easily administered perfectly by amateurs and professionals alike.
Quantum is working to develop the next generation of robotics technology to compete in a booming global industry alongside Intuitive Surgical, Inc. (NasdaqGS: ISRG), iRobot Corporation (NasdaqGS: IRBT) and Dover Corp. (NYSE: DOV).
For more information on Quantum International's robotics initiatives, please visit www.quantuminnovators.com/investors.html.
Follow us on Twitter at www.twitter.com/QuantumIntlCorp.
About Quantum International Corp.
Quantum International Corp. (OTCBB: QUAN) is a robotics innovation company working to commercialize the next generation of sophisticated, automated technology. The Company is positioning itself to develop, deliver and market the most cutting-edge innovations in robotics in order to leverage the worldwide demand for the precision, speed, and cost-effectiveness these technologies offer.
For more information about Quantum International Corp., please visit www.quantuminnovators.com.
Featured Product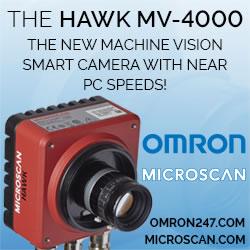 Awe-inspiring power and superior flexibility is sheathed within the contoured casing of the HAWK MV-4000. This smart camera builds upon the previous generation by quadrupling processing power and achieving real-time trigger response using an FPGA. Its state-of-the-art algorithms make it an excellent tool for any industry, whether the requirement be code reading, code verification, inspection, guidance, gauging or a combination of all four.