See Interactive Vehicle Displays at Booth 2045
Reston, VA- QinetiQ North America (QNA) today announced that its latest vehicle survivability technologies are being showcased through interactive displays at Booth 2045 at the Annual Association of the US Army (AUSA) Annual Meeting in Washington, DC.

Take a tour of a military vehicle outfitted with BlastRideTM blast mitigation seating, spall liners, underbelly armor, Breakaway Transparent Armor System (BTAS), Scalable Metallic Composite (SMC) armor, the Q-NetTM RPG defeat system, the EARS® vehicle mounted gunfire detection system and the EAGLSTM egress lighting system.
Evaluate the effectiveness of various armor solutions against today's and tomorrow's threats, and compare armor options with our interactive armor display.
QNA's survivability innovations respond to key challenges facing the U.S. military, with cost effective, reliable solutions that can be easily integrated on existing vehicles to increase soldier survivability.
These displays are open through October 24, 2012 at QinetiQ North America's AUSA Booth 2045 at the Walter E. Washington Convention Center in Washington, DC. For product photos and fact sheets, visit www.qinetiq-na.com/ausa.
Part of QinetiQ's Global Products division, QNA's Technology Solutions Group is a world leader in technology solutions that save lives in defense, security and commercial environments. For more information, visit www.QinetiQ-NA.com, read our blog at techblog.qinetiq-na.com, and follow us on Facebook at www.facebook.com/survivability or Twitter at www.twitter.com/qinetiqsurvival.
About QinetiQ North America
QinetiQ North America (QNA) is a subsidiary of QinetiQ Group plc, the FTSE250 company listed on the London Stock Exchange (LSE:QQ.L). Operating in North America, QNA delivers world-class technology, responsive services, and innovative solutions for global markets, focusing on U.S. government and commercial customers. Its engineers, scientists and other professionals deliver high quality products and services that leverage detailed mission knowledge and proven, reliable tools and methodologies to meet the rapidly changing demands of national defense, homeland security and information assurance customers. QNA is headquartered in McLean, Virginia. For more information visit www.qinetiq-na.com and join our conversation at www.facebook.com/qinetiqna.
Featured Product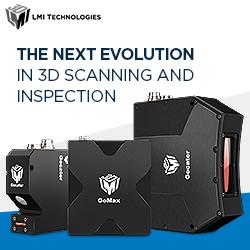 Every robot needs eyes to see, think, and do. Gocator® 3D smart sensors add powerful vision-guidance and inspection capability to industrial robots. You can use these sensors in a wide variety of factory automation applications. Pair them with scara, delta, and collaborative robots to create complete robotic solutions that deliver high-performance 3D results in vision-guidance, quality control inspection, and automated assembly with smart pick-and-place. Make your robot FactorySmart® with Gocator 3D smart sensors.