Keynotes to Include Co-founder of iRobot, President of the Society of Women Engineers, at FIRST Place in Manchester, New Hampshire, November 2
MANCHESTER, N.H.--The FIRST® Women in Science & Technology Forum co-presented by Public Service of New Hampshire (PSNH), New Hampshire Space Grant Consortium, University of New Hampshire at Manchester and FIRST (for Inspiration and Recognition of Science and Technology) will feature a wide array of successful women leaders who will share valuable information to inspire and motivate young women and ignite their interest in science, technology, engineering and math (STEM) careers on November 2 at FIRST Place in Manchester, New Hampshire.

Offered since 2000, the FIRST Women in Science & Technology Forum is a proven, effective information exchange and networking conference targeted to high school girls and their teachers where attendees learn about higher education choices and explore career options.
Successful entrepreneur, Helen Greiner, currently CEO of CyPhyWorks, and co-founder of iRobot, and Betty Shanahan, the Executive Director and CEO for the Society of Women Engineers (SWE), will each present a keynote session. A wide variety of over 45 accomplished panelists will present and reflect on their education, career decisions, work history and choices, while explaining what a female high-school student needs to know today to obtain a rewarding career in science and technology.
Greiner and Shanahan will engage attendees in thought-provoking discussions and collaborate with other conference speakers - including corporate executives and technology experts - on specific outcomes that will advance the future of women in the STEM workforce.
Helen Greiner is the co-founder of iRobot and currently CEO of CyPhyWorks. Under her leadership, iRobot Corporation delivered robots into the industrial, consumer and military markets and became a household name in 2002 with the Roomba, the hands-off, robotic vacuum cleaner. Greiner holds a B.S. degree in mechanical engineering and a master's degree in computer science, both from MIT.
Before joining SWE, Betty Shanahan spent 24 years in development, engineering management, and marketing for the electronics and software industries, beginning her career at Data General, where she was the "one woman engineer" on the Eagle minicomputer design project captured in Tracy Kidder's The Soul of a New Machine. Shanahan earned a B.S. in electrical engineering from Michigan State University, a master's degree in Software Engineering from the Wang Institute of Graduate Studies, and an MBA in strategic management from the University Of Chicago Graduate School Of Business.
"As New Hampshire's largest electricity provider, PSNH is proud to be a sponsor of this year's Women in Science and Technology Forum. Every day, PSNH relies on a team of skilled engineers and employees who are well-versed in science, technology, and math to provide the service our customers expect. Throughout our history, the contributions and leadership of our women engineers and technology professionals have helped develop, oversee, and maintain reliable energy solutions," said Gary Long, President, PSNH.
More than 250 young women are expected to attend the FIRST Women & Technology Forum Summit at FIRST Place which runs from 8:45 a.m. through 2:00 p.m. at 200 Bedford Street in Manchester, NH.
Registration for the forum is open through October 26 at: https://my.usfirst.org/FIRSTPortal/WIST/2012Registration.aspx or call Nick Skripsky at 603.666.3906 x 209.
About FIRST®
Accomplished inventor Dean Kamen founded FIRST® (For Inspiration and Recognition of Science and Technology) in 1989 to inspire an appreciation of science and technology in young people. Based in Manchester, N.H., FIRST designs accessible, innovative programs to build self-confidence, knowledge, and life skills while motivating young people to pursue opportunities in science, technology, and engineering. With support from three out of every five Fortune 500 companies and nearly $16 million in college scholarships, the not-for-profit organization hosts the FIRST® Robotics Competition (FRC® ) for students in Grades 9-12; FIRST® Tech Challenge (FTC® ) for Grades 7-12; FIRST® LEGO® League (FLL® ) for Grades 4-8; and Junior FIRST® LEGO® League (Jr.FLL®) for Grades K-3. Gracious Professionalism® is a way of doing things that encourages high-quality work, emphasizes the value of others, and respects individuals and the community. To learn more about FIRST, go to www.usfirst.org.
Featured Product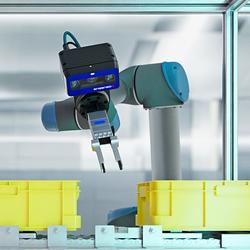 App Your Sensor®! What would smartphones be without apps? They would be mobile phones that can't do much more than make phone calls and sending SMS. Apps turn smartphones into intelligent assistants with any number of different tasks. Transferred into the world of image processing, this app-based approach transforms cameras and sensors into customised, smart vision sensors.