QComp's core business is the integration of robots into automated packaging and manufacturing solutions.
November 1, 2012 - QComp Technologies has become a RIA Certified Robot Integrator. QComp has completed the qualification process and is proud to be a part of the certified integrator program. QComp's core business is the integration of robots into automated packaging and manufacturing solutions.

"RIA certification confirms the higher standards that QComp has maintained as our routine practice," said Tom Doyle, president, QComp Technologies, Greenville, Wisconsin. "Having our engineers pass the testing at the Expert level shows the dedication and competence of the QComp staff and our internal emphasis on training. Benchmarking our processes and engineering competence against other top robotic integrators helps establish QComp's place in the market as an experienced, competent and customer focused integrator."
We feel that this certification will provide potential robot customers another standard to gauge the capabilities and experience of the integrator(s) they may be considering. The thorough certification process includes an on-site audit, safety training and hands-on testing of key personnel. The certification audit also uses criteria such as project management, documentation, service and overall integrator experience to achieve the certification. The RIA certification should provide our potential customers with confidence that QComp has the people and processes in place to provide a successful project.
The new RIA Certified Robot Integrator program was officially announced in late January 2012 at the Robotics Industry Forum in Orlando. Each certified integrator will need to be recertified every two years. Detailed information on the certification program and the certified robot integrators can be found on a special section of Robotics Online at www.robotics.org.
"In order to become certified, integrators go through a rigorous process which includes an on-site audit, safety training and hands-on testing of key personnel among other important criteria. Based on feedback from the industry, we believe that achieving certification will be valuable to integrators looking to showcase their capabilities and experience to users and suppliers alike." said Jeff Burnstein, president of RIA.
"Additionally, the program allows integrators to benchmark their own processes against best industry practices, allowing them to identify areas in which they can improve. This also helps the industry by strengthening the overall integrator channel," Burnstein explained.
Founded in 1974, RIA now represents more than 300 robot manufacturers, system integrators, component suppliers, end user, consulting firms, research groups, and educational institutions. RIA is best known for its biennial Automate Show & Conference (next event slated for January 21-24, 2013 in Chicago); the ANSI/RIA National Robot Safety Standard and annual National Robot Safety Conference; and the annual Robotics Industry Forum (February 20-22, 2013, Orlando). The association also provides quarterly robotics statistics and has a content-rich Robotics Online website attracting hundreds of thousands of visits a year from throughout the world. For more details on RIA, visit Robotics Online at www.robotics.org
Founded in 1990, QComp Technologies, Inc. is a robotics integrator, providing automation solutions for a variety of industries. The company designs and builds automated robotic manufacturing cells and materials handling systems, as well as engineers and manufactures drive systems for paper, metal and converting industries. With headquarters in Greenville Wisconsin QComp has sales and service offices in Wausau and Milwaukee, WI. For more information visit QComp online at www.qcomptech.com.
Featured Product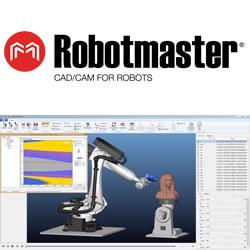 Since Robotmaster V7 uses integrated CAD/CAM functionality, for the first time, the power of Robotmaster can be used by welding, cutting and other process experts without buying or learning complex CAD/CAM software. As in past versions, Robotmaster V7 imports paths, but now makes it even easier for end users to leverage any CAD/CAM tool choice. It is an intuitive tool that anyone could use, with or without robotics expertise. It bridges the gap between robots and manufacturing by providing easy programming solutions for part manufacturing.