The week-long fair is expected to attract over 1,600 exhibitors
China International Industry Fair 2012

HOUSTON--Quantum International Corp. (OTCBB:QUAN) will be on hand this week when an invasion of high-tech robots descends upon Shanghai, China, for the 14th China International Industry Fair.
The city of Shanghai has pushed hard to become the world capital of robotics, as many there believe that high-tech automatons could be the solution to the manufacturing superpower's rising labor costs. According to China Daily, the week-long fair is expected to attract over 1,600 exhibitors, including North American leader ABB Robotics.
The exhibition could be a crucial networking opportunity for Quantum as the company seeks out the most promising new breakthroughs in global robotics for commercialization. Of particular interest will be forging new relationships with potential clients and customers in China, where a hungry market is developing for powerful new robotics solutions.
Nearly half of the exhibitors are from China, with the rest hailing from 23 countries around the world, highlighted by the U.S. and Germany.
"In addition to helping build our global network of business contacts, this fair should also give Quantum an accurate snapshot of the global robotics industry and its developing trends for the new year," said Quantum CEO Robert Federowicz.
Quantum is already working with some of the world's top robotics innovators to produce new automation products for use in astonishing new arenas. The company is close to completing a joint venture agreement with Clelland DataSciences (CDS) to produce autonomous, robotic vehicles capable of sensing and detecting explosives at standoff distances using spectral analysis.
For more information on Quantum International's robotics initiatives, please visit www.quantuminnovators.com/investors.html.
The company plans to offer clients the next generation of robotics technology to compete in a booming global industry alongside iRobot Corporation (NASDAQ: IRBT), Honda Motor Co., Ltd. (NYSE: HMC), AeroVironment, Inc. (NASDAQ: AVAV) and, potentially soon, Apple Inc. (NASDAQ: AAPL).
Follow us on Twitter at www.twitter.com/QuantumIntlCorp.
About Quantum International Corp.
Quantum International Corp. (OTCBB: QUAN) is a robotics innovation company working to commercialize the next generation of sophisticated, automated technology. The Company is positioning itself to develop, deliver and market the most cutting-edge innovations in robotics in order to leverage the worldwide demand for the precision, speed, and cost-effectiveness these technologies offer.
Featured Product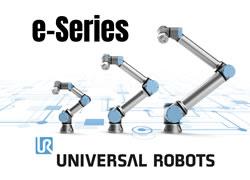 With the new e-Series cobot line, Universal Robots raises the bar for cobots, adding unique new features while significantly strengthening the four core principles defining collaborative robots: fast set-up, easy programming, flexible deployment, and safe operation. With a new built-in, tool-centric Force/Torque sensor the e-Series is ready to take on applications requiring force control right out of the box. A repeatability of 30 micron means the new cobots are suitable for very precise finishing, assembly and electronics tasks. A re-designed user interface decreases cognitive load and expedites program development, while a new externally accessible, 500Hz system bus enables more complex motion control algorithms or profiles.