Global leader in environmental controls read how others improved turbo compressor efficiency using the technology and knew it would work for fans as well.
LONDON and NEW YORK - November 8, 2012 - Advanced Design Technology (ADT), a global leader in the development of advanced turbomachinery design methods and the TURBOdesign Suite, today announces that its customer, Daikin Industries (Daikin), has successfully designed an innovative, more efficient fan for air conditioning units by using the 3D inverse design technology of the TURBOdesign Suite.

"We wanted to improve fan efficiency and did so by using TURBOdesign1," said Toru Iwata, Researcher, Daikin Industries, Environmental Technology Laboratory. "We read how others used the software before to improve compressor efficiencies, so we expected it also would work for fans. It did."
Since 1951, Daikin has provided air conditioners, systems and solution services offering even greater comfort to its global customers. Throughout this time, Daikin has actively confronted global environmental problems as part of its corporate responsibility as a leading global manufacturer of air conditioning equipment. When it came time to develop an innovative fan design for a new line of air conditioning units, Daikin engineers set out to use the latest, most capable technology to develop even more efficient systems. They used the 3D inverse design technology of the TURBOdesign Suite.
"The TURBOdesign Suite provides a more systematic approach to aerodynamic turbomachinery design because once an optimum input specification for a given design criteria (such as minimum loss, cavitation suppression, secondary flow suppression, etc.) has been obtained, it is used to develop new prototypes very rapidly, reducing development time for new designs," said Mehrdad Zangeneh, Ph.D., professor of thermofluids at University College London and founding director of ADT.
For More Information
For more TURBOdesign Suite information and product inquiries, to arrange a demonstration of unique 3D design and analysis codes or to request a trial license:
· U.S. based, call 1-347-759-6103 or visit www.turbodesign-tech.com
· Outside the U.S., call +44 20 72 99 1170 or visit www.adtechnology.co.uk
About TURBOdesign Technology, Inc.
Founded in 2011, TURBOdesign Technology, Inc. (TDT) is the exclusive U.S. distributor for the Advanced Design Technology (ADT) turbomachinery design software, TURBOdesign Suite. TURBOdesign Technology is headquartered in New York, N.Y. For more information, call (347) 759-6103 or go to: www.turbodesign-tech.com.
About Advanced Design Technology
Advanced Design Technology (ADT) is a global leader in the development of advanced turbomachinery design methods, which help not only to shorten development time but also improve the performance of turbomachinery components. ADT's aim is to put designers in direct control of the aerodynamic design and to shorten considerably the design time and time to market for a range of turbomachinery products. ADT's clients, who represent some of the leading global players in the aerospace, automotive, power generation and marine fields, have achieved significant returns on investment in terms of reduction in design times, higher performance and ease of know-how transfer among different design teams and projects. For more information, call +44 (0) 20 7299 1170 or go to: www.adtechnology.co.uk.
Featured Product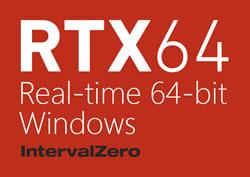 RTX64 turns the Microsoft 64-bit Windows operating system into a Real-time operating system (RTOS). RTX64 enhances Windows by providing hard real-time and control capabilities to a general purpose operating system that is familiar to both developers and end users. RTX64 consists of a separate real-time subsystem (RTSS) that schedules and controls all RTSS applications independently of Windows.RTX64 is a key component of the IntervalZero RTOS Platform that comprises x86 and x64 multicore multiprocessors, Windows, and real-time Ethernet (e.g. EtherCAT or PROFINET) to outperform real-time hardware such as DSPs and radically reduce the development costs for systems that require determinism or hard real-time.