Technology to be Presented at the Robotics Alley Conference and Expo, November 15 at the Westin Edina
EDINA, Minn. - (October 31, 2012)

Robotics AlleyTM, a robotics industry public-private initiative based in Minnesota, has unveiled the world's first searchable, crowdsourced map of the booming global robotics industry. Already populated with more than 1,300 robotics-related organizations from around the world, TheRoboticsMap.com integrates best practices from open-source intelligence gathering and crowdsourcing to build a flexible, ever-expanding map of robotics organizations, including manufacturers, suppliers, research organizations and university robotics departments. This tool is expected to include more than 5,000 organizations by January 2013 and upwards of 10,000 by the end of next year as more international entries are added to the site. Researchers, investors, policy makers, educators and suppliers will use the map to connect with one another and source technologies and expertise that are pertinent to their goals. Anyone can visit the map and add their organization to the database, and each new entry is vetted prior to publication within the map. The map is searchable by region, market sector or company name, making it easy for organizations to add or update their information.
"The Twin Cities is now internationally recognized as a vibrant hub of the global robotics industry," said Andrew Borene, executive director of Robotics Alley. "We created this map to reveal the geographic concentration of robotics organizations in the Midwest and to show the breadth and growth of the robotics industry across the United States and around the world. As we move forward, this map will be a living, visual representation of the evolution of robotics on a global scale, leveraging the power of crowd-based analysis and the evolving insights of global knowledge management. Free access to the map and an easy-to-use self-populating administration feature will allow for the continued expansion of the data set as the sector expands."
Robotics Alley Conference and Expo, November 15
Andrew Borene will demonstrate the map firsthand at the Robotics Alley Conference and Expo on November 15, 2012, in Edina, Minnesota. ReconRobotics, Inc. and the Minnesota High Tech Association (MHTA) will host the Robotics Alley event, which will bring together hundreds of international leaders in robotics research, design, business development, law, government and policy, and investment banking. Attendees will gain insights into how companies from various fields are leveraging robotics technology to improve productivity and enter new markets, and how regional and national governments are marshaling resources to generate thousands of new jobs as the robotics industry continues its rapid expansion. Attendees will hear from five internationally known keynote speakers about the impact of robotics on privacy, security, entertainment, government policy and manufacturing:
South Korea - An Emerging World Leader in Robotics - Dr. Chul Hue Park, Executive Director of Policy and Planning at the Korea Institute for Robotics Industry Advancement (KIRIA). He will present the pursuit of robotics leadership in South Korea and the global marketplace for their robotics technologies.
What Happens When Robots Take Over Our World? - Daniel Wilson, author of the best-selling novel, Robopocalypse, which is being adapted into a film by director Steven Spielberg.
Do Military Robots Save Lives? - Lt. General Rick Lynch, U.S. Army (Ret.), executive director of the Automation Robotics and Research Institute in Fort Worth, Texas.
Robot and Human Interaction - Entertaining or Creepy? - Heather Knight, Ph.D. researcher at Carnegie Mellon, founder of the Robotics Film Festival and director of the Marilyn Monrobot Labs. Her presentation will include a stand-up comedy performance by an amazingly engaging robot.
The U.S. National Robotics Initiative and Job Creation - Dr. Richard Voyles, National Science Foundation Program Director. His presentation will describe the U.S. National Robotics Initiative and its goals of accelerating the development of autonomous systems and encouraging the use of robots that work cooperatively with people.
About Robotics Alley
Robotics Alley (www.roboticsalley.org) is an industry‐led cluster initiative meant to spur public‐private partnership in the business, research and development of world‐leading robotics and automation systems. Robotics Alley hosts an annual conference & exposition in Minnesota's Twin Cities that is on pace to become one of the world's leading conferences on robotics and automation.
Featured Product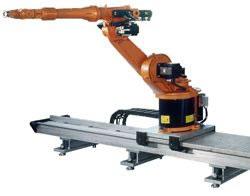 IPR Robotics offers a wide range of servo-driven 7th axis linear rails for industrial robots. These rails come in ten different sizes and are constructed from modular high strength extruded aluminum sections to handle payloads of 100 kg to 1600 kg or from steel to handle 2000 kg payloads. This variety of rail sizes allows each application to be sized correctly, controlling the space required and the price point. The drive train design of these rails utilizes helical gear-racks and is proven over 10 years to be repeatable and reliable, even in tough foundry applications.