Steve Forbes to Keynote ProMat 2013 Conference
CHICAGO--When the material handling and logistics industry's premier event, ProMat 2013, opens on January 21 it will include over 800 exhibits and an comprehensive Educational Conference that will focus on solutions that increase the efficiency and profitability of manufacturing and supply chain operations.

With the presidential inauguration occurring the day ProMat opens, Forbes Media Chairman, Steve Forbes will headline the Conference on January 22 with a keynote on the impact of the President and his administration on the future of the economy and business growth. Mr. Forbes will provide insight and strategic advice for business success during uncertain times.
The ProMat Conference will include two additional keynotes as well as educational tracks on automatic identification and mobile solutions. The Conference also features over 90 show floor educational seminars covering leading trends, best practices and state-of-the-art equipment and technology solutions that can make manufacturing and the entire supply chain work more efficiently and profitably.
The Automate Show and Conference, sponsored by the Association for Advancing Automation, is once again collocated with ProMat in 2013. The Keynotes are co-presented by ProMat and Automate.
January 21 Keynote: During the last few years, a new wave of robotics that is revolutionizing modern manufacturing and distribution operations. Dr. Henrik Christensen, KUKA Chair of Robotics & Director of Robotics at Georgia Tech will detail how these advances combined with core business drivers will impact future economic growth.
January 23 Keynote: Futurist Edie Weiner will moderate a panel of industry leaders to examine their views on how material handling and logistics will impact future supply chains. Innovations, key trends and shifts in best practices will be sized up in this fast-paced panel discussion.
In addition, the Association for Automatic Identification and Mobility (AIM), the Council of Supply Chain Management Professionals (CSCMP) and the National Institute for Occupational Safety and Health (NIOSH) will hold educational tracks during the expo. ProMat also features an interactive social networking center on the ProMat 2013 show floor-The Hub. The Hub attractions include:
MHI Informational Center: Featuring information on ProMat 2013 sponsor MHI and the resources and opportunities they offer to manufacturing and supply chain professionals.
ProMat Innovation Awards: A showcase of the latest innovative solutions offered by ProMat exhibitors.
For complete information on the ProMat Educational Conference including session details and speaker information, visit http://www.promatshow.com/education/overview.aspx.
ProMat is sponsored by MHIA. MHI is an international trade association that has represented the material handling & logistics industry since 1945.
Complete information and complimentary show and educational session registration can be found online at www.ProMatShow.com.
ProMat 2013-Where Supply Chain Solutions Connect
January 21-24, 2013
McCormick Place South - Chicago, IL USA
Featured Product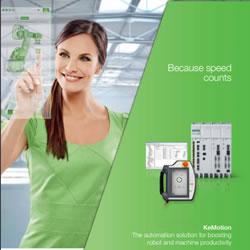 Best ergonomics and an intuitive user interface are key factors for efficient operation and monitoring. With the KeTop devices, high-performance, application-optimized hardware is available. The turnkey TeachView robotics user interface enables fast and easy teach-in. User-friendly HMIs are created with the easy-to-operate KeView visualization software - an optimum user experience is guaranteed.