BEDFORD, Mass.--iRobot Corp. (NASDAQ: IRBT) today announced that John Leahy, iRobot's chief financial officer, will present at the Wedbush Consumer Management Access Conference being held at Le Parker Meridien in New York at 8:35 a.m. ET on Tuesday, December 11, 2012.

The live presentation will be accessible on iRobot's investor relations Web site at http://investor.irobot.com/phoenix.zhtml?c=193096&p=irol-eventDetails&EventId=4831294 and an audio replay will be available for 90 days thereafter.
About iRobot Corp.
iRobot designs and builds robots that make a difference. The company's home robots help people find smarter ways to clean, and its government and industrial robots help protect those in harm's way. iRobot's consumer and military robots feature iRobot Aware® robot intelligence systems, proprietary technology incorporating advanced concepts in navigation, mobility, manipulation and artificial intelligence. For more information about iRobot, please visit www.irobot.com.
Featured Product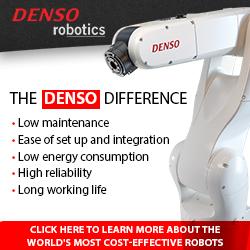 DENSO is the world's largest manufacturer - and user - of small assembly robots, employing over 17,000 of its robots in its own facilities. Over 77,000 additional DENSO robots are used by other companies worldwide. The compact, high-speed robots are used in traditional manufacturing sectors, as well as in advanced-technology applications in the medical, pharmaceutical and life sciences industries. Learn more about DENSO Robotics