Flying model aircraft enthusiasts and anyone interested in radio-control aircraft and aviation are encouraged to attend the premier aeromodeling, exposition, AMA Expo 2013, hosted by the Academy of Model Aeronautics January 11-13, at the Ontario Convention Center in Ontario, CA.
Ontario, CA December 13, 2012

Flying model aircraft enthusiasts and anyone interested in radio-control aircraft and aviation are encouraged to attend the premier aeromodeling, exposition, AMA Expo 2013, hosted by the Academy of Model Aeronautics January 11-13, at the Ontario Convention Center in Ontario, CA. It offers families and hobbyists the opportunity to shop more than 100 model aircraft manufacturers, see the latest in technology, learn how to get started in this fun activity, watch flight demonstrations, mingle with model-flying experts, listen to presentations by aviation celebrities, view unique exhibits include a restored World War II Allison V-1710 liquid-cooled V-12 piston engine, and enjoy a full weekend of learning and camaraderie. A complete list of activities can be found at http://amaexpo.com/.
Friday, January 11 Noon - 6 p.m.
Saturday, January 12 10 a.m. - 6 p.m.
Sunday, January 13 10 a.m. - 4 p.m.
One-Day Pass $13 AMA & EAA Members/$15 Nonmember
Two-Day Pass $24 AMA & EAA Members/$28 Nonmember
Three-Day Pass $33 AMA & EAA Members/$36 Nonmember
Kids 12 and under free. Any youth 18 and under in uniform or presenting organization ID gets in free.
Activity duty military free with ID.
Hollywood's model builder: Founder of Aero Telemetry model builder for the movie The Aviator, Joe Bock will display a giant flying model of Howard Hughes' Spruce Goose with a 25-foot wingspan. Also on display will be a restored Allison V-1710 liquid-cooled V-12 piston engine that powered a WW II P-38 Lightning. Returning to the Expo is a 1/2-scale model H-1 Hughes Racer.
NASA's Dryden Flight Research Center's Jerry Budd is an AMA member and Business Development Manager of the Advanced Planning and Partnerships Office at NASA's Dryden Flight Research Center, Edwards, California. Jerry will be speaking about his team's development of a RC, 1/3 scale model Twin Ventus Glider with a Mini Sprite Rocket to conduct flight research on towed glider, air-launch vehicle possibilities. Jerry is an accomplished RC aerobatic pilot competing on a regional and national level.
Youth activities: Kids of all ages are encouraged to visit the build and fly area for the chance to make, fly, and take home a rubber-powered model airplane under the instruction of experienced aeromodelers. AMA was recently recognized by the National Aeronautic Association for its long-standing commitment to education through aviation activities.
Technological leaders will be available throughout the show to share commentary and the latest technological innovations. Chris Anderson, CEO of 3D Robotics, is available Friday only. Anderson recently left his post as editor-in-chief of Wired magazine to focus on his cutting- edge Unmanned Aircraft Systems manufacturing company, 3D Robotics. Chris will be speaking about his role in leading the development of low-cost UAVs using the extraordinary advances in smartphone-based sensors, imaging, wireless communication, and open-source processing technology. He will share where the movement is going for small, non-commercial UAS. Chris has authored three books including his newly released book, Makers: The New Industrial Revolution.
The leader of the FAA's UAS Integration Office, Jim Williams, will join AMA leadership during an open forum on issues surrounding drones (UAS), Saturday, January 12. Congress has decreed that UAS must be integrated into the National Airspace System by 2015. The FAA will likely issue a Notice of Proposed Rulemaking for public comment within the coming months. What does this mean for aeromodeling's future? Attend, ask questions, get information from the top.
Historical information and discussions for those interested in learning more about model aviation will not be in short supply throughout the event. AMA member and author, Gary Fogel, is an aviation historian who has written extensively on the history of gliding in San Diego. Gary will be speaking about his new book, Quest for Flight: John J. Montgomery and the Dawn of Aviation in the West. The book covers the accomplishments of Montgomery, a prolific inventor who piloted the glider he designed in 1883 in the first controlled flights of a heavier-than-air craft in the Western Hemisphere, 20 years before the Wright brothers' powered flight in 1903.
Aeromodeling champions, including AMA member Nick Maxwell, 22, will be available at this year's Expo to answer questions and conduct flying demonstrations throughout the event. Nick is a world- class 3-D helicopter competitor and has competed or flown in 16 countries in the last seven years. He was the first- place finisher at this year's Extreme Flight Championships and competes in several categories including RC Pylon Racing, FAI helicopter, and 3-D helicopter in international and F3C World Championships.
Additional activities include an AMA membership meeting, Saturday, January 12, from 9 to 10 a.m. Meet and hear the latest AMA news with President Bob Brown, Executive Council members, and AMA staff. It's open to all AMA members. Coffee and donuts will be served. The annual Swap Shop will also be held at the Expo. Buy used, seasoned, and collectible items.
More than 5,000 are expected to attend the 15th annual AMA Expo. Information and directions to the Ontario Convention Center can be found at http://www.ontariocc.com.
The Academy of Model Aeronautics is the nation's collective voice for 155,000 modelers in 2,400 clubs in every state and Puerto Rico and Guam. The AMA, founded in 1936, is a nonprofit association that sanctions more than 2,000 events and competitions each year under the auspices of the National Aeronautic Association. Headquartered in Muncie, Indiana, AMA is open to the hundreds of thousands of Americans who fly model aircraft for recreation, sport, and education.
Featured Product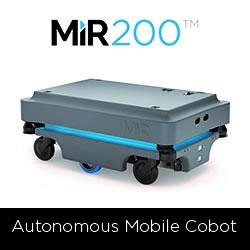 MiR200 is a safe, cost-effective mobile robot that automates your internal transportation. The robot optimizes workflows, freeing staff resources so you can increase productivity and reduce costs. MiR200 safely maneuvers around people and obstacles, through doorways and in and out of lifts. You can download CAD files of the building directly to the robot, or program it with the simple, web-based interface that requires no prior programming experience. With its fast implementation, the robots offers a fast ROI, with payback in as little as a year.