The BD5 is a brushless DC motor drive that is based on advanced control technology featuring excellent performance and ease of use
Applied Motion Products is proud to announce the release of a new line of brushless DC motor drives. The BD5 is a brushless DC motor drive that is based on advanced control technology featuring excellent performance and ease of use. The drive is aimed at OEM applications that require high performance, high speed stability, basic speed control and low cost. Its velocity modes are controlled by way of analog or multispeed digital inputs. The supply voltage for the drive is 12 to 48 VDC with an operating current of 5 amps RMS continuous and a peak current of 10 amps RMS.

The BD5 brushless drive is an efficient and well-featured drive for use with our line of brushless DC motors. It provides stable velocity control over a wide speed range. Motor speed can be controlled by an on-board trimpot, a 0-5 volt analog input, or via the drive's digital inputs. Dedicated stop and enable inputs are available, along with a dynamic braking feature that brings the motor to zero speed in a quick and controlled fashion.
To compliment the BD5 drives, Applied Motion Products is offering three performance matched 42mm brushless DC motors. Maximum speed is 4500 rpm. Max continuous torque is 0.225 N-m (32 ounce-inches).
The BL series brushless motors offer long life and low maintenance. They come in metric frame sizes and are offered with optional gearheads for applications demanding high torque. These are three-phase brushless motors with hall signals for commutation and velocity loop feedback.
For more information on the BLDC Drives & Motors from Applied Motion Products, click on the link below- http://www.servo2go.com/product.php?ID=105511&cat=
A copy of this Press Release can be viewed at-
http://www.servo2go.com/news.php?id=107
For more information, please contact:
EDITORIAL CONTACT:
Warren Osak
sales@servo2go.com
Toll Free Phone: 877-378-0240
Toll Free Fax: 877-378-0249
www.servo2go.com
Tags: Applied Motion Products, BLDC Drive, BLDC Motor, Brushless Motor, Servo2Go, DC Motor Drive
Featured Product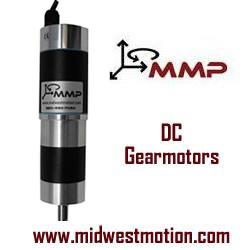 Midwest Motion Products, Inc. (MMP), is a well-established, healthy, & growing Family Owned Business, founded in 2001. MMP specializes in cost-effective standard DC Gearmotors, Motors, Controls, and ancillary equipment. Known world-wide for our "Lightning Fast" delivery capabilities, you can have a Standard Planetary or Right Angled DC Gearmotor BUILT and SHIPPED, often on the very same day you call. Offering Brushed and Brushless designs, with winding voltages ranging from 12 VDC to 120 VDC, we can deliver your "Robust & Reliable" samples within HOURS, instead of weeks, or even months.