Distributor

Marketing Partner
---

Servo2Go.com Ltd.
Servo2Go.com is an Online E-Store Distributor of Automation & Motion Control Systems & Components including: Servo Motors & Drives, Stepper Motors & Drives, Automation & Motion Controllers, Positioning Systems & Actuators, Gearboxes, Couplings, Brakes, Encoders, Tachometers, Linear Displacement Transducers, HMI's, PLC's and Embedded Controllers. Servo2Go.com is an ISO9001:2008 Registered Company.
---
Mailing Address:
4023 Kennett-Pike, Suite #583
Greenville, Delaware 19807
United States of America
Tel: 877-378-0240
Email: sales@servo2go.com
Website: http://www.servo2go.com
Company Category: Industrial Robotics
Company Sector: Distributor
Keywords: Automation, Motion Control, Servo, Stepper
Partner Status: Marketing Partner
---
Products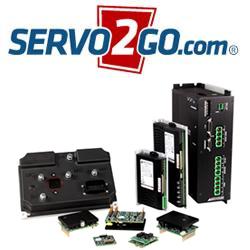 Engineered to drive brushless and brush servomotors in torque, velocity or position mode, Servo2Go.com offers a broad selection of servo drives in a wide range of input voltages and output power levels.
---
Articles
The speed / torque gradient is an indicator of a motor's performance. The smaller the value, the more powerful the motor and consequently the less motor speed varies with load variations. It is based on the quotient of ideal no-load speed and ideal stall torque.
One of the most often overlooked parameters of direct current motors (both brush and brushless) is the Km or motor constant. The motor constant (expressed as Km) defines the ability of a motor to transform electrical power into mechanical power.
Torque ripple must be defined as a function of output load and speed. For load specification the most sensible rating point is the continuous duty thermal torque rating for the servo motor.
---
---
---