Universal Robots has hired Ed Mullen as new National Sales Manager in North America. Ed Mullen, who signed up ten new distributors in his first month alone, sees the sky as the limit for the lightweight robotic arms that can work alongside humans with no safety guarding.
Odense, Denmark, January 2, 2013: Universal Robots is pleased to announce the recent acquisition of our new U.S. National Sales Manager, Ed Mullen.

His career in industrial automation began more than 20 years ago as a design engineer at Micron Instruments. Mullen put his degrees in mechanical and electrical engineering to work designing gears for a product used in high-end motion control. But it was when he was promoted to the sales end of the business that he found his niche - selling, talking with customers, solving problems, and finding solutions.
This expertise led him to his new position at Universal Robots.
"To me, the appeal is that I get to experience the gamut of many different industries that take advantage of industrial automation - from automotive and food & beverage to semiconductors and aerospace," says Mullen, who sees huge opportunities for the future of industrial automation, and Universal Robots in particular.
"The entire manufacturing world is looking for a change," he says. "Companies need to make their processes more efficient, cut costs, and use labor more effectively in settings where employees can work alongside the robot. This is where I see the strength of Universal Robots: Our product addresses those needs, operates with no safety guarding, and places us at the extreme leading edge of a change in industrial automation."
As for the future clients of Universal Robots, the sky is the limit.
"Our clients are anybody and everybody that makes a product and seeks to automate a process," explains Mullen. "We aren't pigeonholed into one industry, product, or type of customer. There's a use for our robots whether it's a food & beverage plant where they are making bags of corn, a semiconductor plant packaging small parts into assembly boards, or an automotive facility tightening screws."
As National Sales Manager based on Long Island, New York, Mullen's job includes signing up new distributors. In his first month alone, he signed ten new distribution contracts and has a long list of potential resellers interested in distributing the robots. "Nobody else has a flexible robot that's easy to program, can be moved from spot to spot throughout a factory, and is relatively low in cost. That's also why people are literally lining up to help us sell it," he explains.
"Our robots are different than anything else that's out there."
For more info, contact:
Edward Mullen,
National Sales Manager, Universal Robots USA
Wading River, New York
Office: 631-610-9664
Cell: 631-566-7775
Emullen@universal-robots.com
Featured Product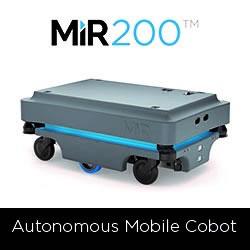 MiR200 is a safe, cost-effective mobile robot that automates your internal transportation. The robot optimizes workflows, freeing staff resources so you can increase productivity and reduce costs. MiR200 safely maneuvers around people and obstacles, through doorways and in and out of lifts. You can download CAD files of the building directly to the robot, or program it with the simple, web-based interface that requires no prior programming experience. With its fast implementation, the robots offers a fast ROI, with payback in as little as a year.